A Super Cold Breakfast For Summer
Are you hot? How would you like some steaming oatmeal?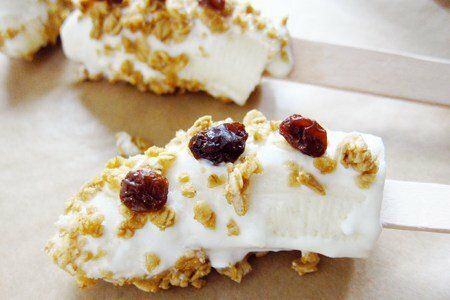 No?
Well, I have an alternative for those of you who are sweltering. Try this - a frozen banana with granola stuck to it.
This is the opposite of a bowl of cereal with a few slices of banana. You have a banana with a few slices of cereal!
Why does this work? First, it is cold which will feel good in this summer heat. Secondly, it is fun. Everything is more fun served on a popsicle stick (I am looking at you Filet Mignon). Finally, these are easy to make.
All you need is some popsicle sticks (which you can find at craft stores), bananas, yogurt, granola, and some optional raisins or chocolate chips.
The best part is you don't have to fire up your oven to make these. Just put them on some parchment paper in your freezer and the next morning you are looking like "Super Mom" as you hand them to your children.
Yes, you can wear a cape (I do).
These also make a great snack or replacement for those traditional sugar filled multi-colored popsicles.
Other fun stuff to do to bananas, a popsicle stick, and a freezer:
dip them in melted chocolate
spread them with peanut butter and then cereal
add Rice Krispies for added crunch
Have you tried a frozen banana treat?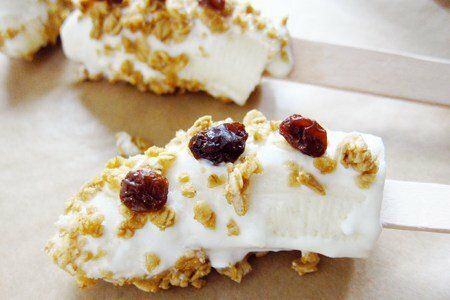 Frozen Breakfast Pops Recipe

(no reviews yet)

(makes 4)

Ingredients
2 bananas
4 popsicles sticks
1/4 cup plain yogurt
1/4 cup plain granola
raisins or chocolate chips (optional)

Instructions
Slice bananas in half and insert popsicle sticks into flat section. Pour yogurt and granola onto seperate plates. Put a piece of parchment paper on a cookie sheet. Add yogurt, spread on granola, add optional raisins, and place on cookie sheet.

Freeze for 12 hours and serve!
Nutrition Facts
For one pop = 107 calories, 1.8 g fat, 22.7 g carbohydrates, 10.5 g sugar, 2.0 g protein, 2.4 g fiber, 7 mg sodium, 3 Points+

Points values are calculated by Snack Girl and are provided for information only. See all Snack Girl Recipes
Other posts you might like:
---

When people meet me for the first time, what do you think they ask me? Where did you get your nails done?....
---

Snack Girl is ALWAYS looking for ways to makeover treats into healthy food. And, she loves banana splits!....
---
---
Get Free Email Updates! Yes please!
---