Eight Exciting Things To Do With Bananas
When people meet me for the first time, what do you think they ask me? Where did you get your nails done?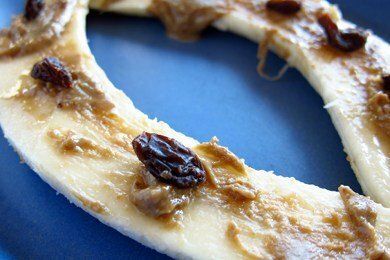 NO! They ask me, "What is your favorite snack?" When you say you have an alter-ego named SNACK Girl - people are curious.
Well, like many Americans, I love bananas. They are portable, sweet, and packed with nutrients including potassium. And, if you are on Weight Watchers, they are ZERO Points+. Don't eat too many though, because you won't be able to move your bowels (the downside of bananas).
Here are the nutrition facts for a medium banana: 105 calories, 0g fat, 27 g carbohydrates, 1.0 g protein, 3.0 g fiber, 1 mg sodium, 0 Points+.
The thing is that I don't LOVE bananas plain. I like to add something else to them to make them more interesting.
My favorite snack is photographed above. It is a banana with sunflower seed butter (sunbutter) and some raisins. I call it "Ants On A Slippy Slide" to make it more fun. It matches well with my favorite drink - coffee - and is so much healthier for me than eating a cookie.
(actually my favorite drink is beer but I usually don't drink that all day long)
I have featured bananas many times on the site because I love them so much. Here are eight ideas for enjoying bananas:
1.

Now You Can Eat A Banana Split Without Splitting Your Pants
2.

You Won't Miss The Butter In This Holiday Banana Bread
3.

The BEST Post Workout Snack
4.

Skip The Ice Cream: Grill Your Dessert
5.

Healthy Banana Pudding from Jack LaLanne
6.

A Grab 'N Go Breakfast With ZERO Added Sugar (and you will love it)
7.

This Green Smoothie Does NOT Taste Like Grass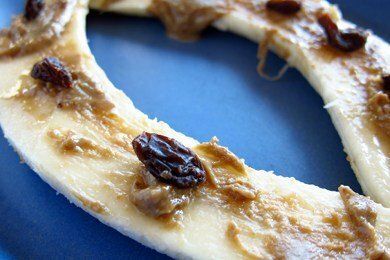 Ants On A Slippy Slide Recipe

Ingredients
1 ripe banana
1 tablespoon peanut butter, sunbutter, almond butter, etc.
a few raisins or chocolate chips

Instructions
Cut the banana lengthwise and spread on the nut butter. Add your raisins or chocolate chips and enjoy!
Nutrition Facts
199 calories, 8.5 g fat, 30 g carbohydrates, 5.3 g protein, 4.0 g fiber, 75 mg sodium, 3 Points+
Points values are calculated by Snack Girl and are provided for information only. See all Snack Girl Recipes
Other posts you might like:
---

Back in April, Snack Girl posted what she thought was an awesome cereal bar recipe. People complained!
---

Sometimes we need a little inspiration to make a healthy snack. We get into snack ruts because we are super busy....
---
---
Get Free Email Updates! Yes please!
---