A Healthy Substitute for Cool Whip
Snack Girl doesn't know how many of you eat Cool Whip, but I know most of you love the idea of whipped cream on strawberries. Yum!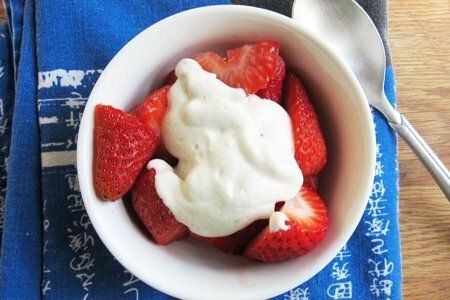 Cool Whip is one of those amazing inventions that allows the consumer to save time by not having to whip cream. The downside is that Cool Whips isn't whipped cream in a bucket but a mix of sugar, wax, and condom lube as the linked article so elegantly states.
You can do better! The vegans in the house know what I am talking about. Their substitute for dairy whipped cream is called "cashew cream" and is stable in the refrigerator. Yes, you can grab a dollop for your dessert and avoid condom lube.
After soaking the cashews overnight to make them soft enough to blend, you use a blender to puree them into cream. It takes my $50 blender about five minutes at the highest speed to get a very smooth consistency. Do not give up!
As for the sweetness, I found that one tablespoon of agave nectar was enough for a nice flavor. I used agave nectar because it doesn't have a strong flavor (like honey or maple syrup).
Cashew cream is not low in calories versus whipped cream, but it has no cholesterol and it is very high in magnesium.
Have you tried cashew cream?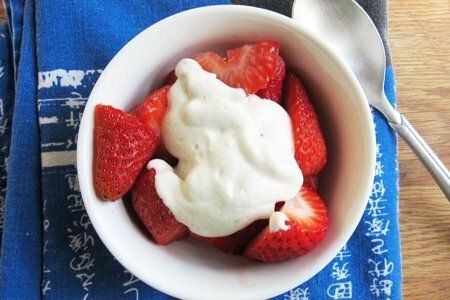 Cashew Cream Recipe
Makes 1½ cups
Ingredients
1 cup cashews
½ cup water
1 tablespoon agave nectar, honey, or maple syrup
½ teaspoon vanilla
Instructions
Soak cashews in a container overnight in the refrigerator. After soaking for 12-24 hours, blend the cashews, water, agave nectar, and vanilla until very smooth.
Serve immediately on top of berries or store in the refrigerator for 4 days.
Nutrition Facts
For one tablespoon = 35 calories, 2.6 g fat, 2.4 g carbohydrates, 0.8 g sugar, 0.9 g protein, 0 g fiber, 1 mg sodium, 1 Points+
Points values are calculated by Snack Girl and are provided for information only. See all Snack Girl Recipes
Other posts you might like:
---

Snack Girl is ALWAYS looking for ways to makeover treats into healthy food. And, she loves banana splits!....
---

Does anyone else think the image of a skinny cow is a little strange? My kids thought the packaging was hilarious....
---
---
Get Free Email Updates! Yes please!
---