What To Bring to a Potluck BBQ
Barbeques are great because you don't have to cook indoors and everyone gets it.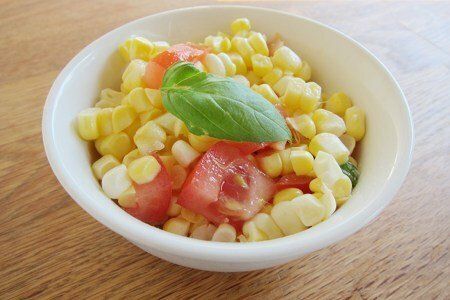 The common foods - hamburgers, hot dogs, potato salad, watermelon, and beer - are always in large supply at any BBQ that I attend. Since I am Snack Girl, I like to show up with something a bit different that everyone will be amazed that I made.
Yes, I am a bit of a show-off.
The problem for me is that I don't want to work at all in the summertime. At the beginning of June, I hung up my hammock and (if I am lucky) you can find me there swinging and reading.
This corn salad keeps me in my hammock longer and wows my friends. It combines the best of summer: fresh corn, tomatoes, and basil. How can you go wrong? I use about ½ the amount of olive oil that is found in a traditional corn salad and it works.
This salad keeps nicely in the fridge so you can make it a couple of days ahead (go back out to the hammock) and bring it the party.
Here is a clear video on how to slice the kernels off of the cob:
He tests a tool called a "corn stripper" in the video which he seems to like. I haven't tried one but the name makes me laugh.
What do you bring to a potluck BBQ?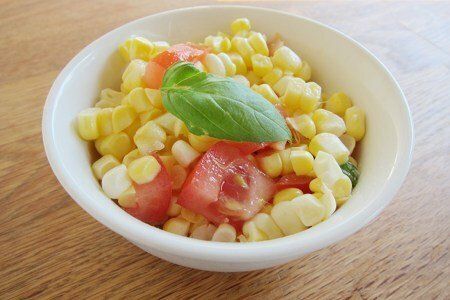 Easiest Corn Salad
Makes 6 cups, one cup per serving
Ingredients
6 ears fresh corn, shucked
1 large fresh tomato, chopped
2 tablespoons olive oil
½ lime, juiced or 1 tablespoon cider vinegar
6 basil leaves or 3 scallions, minced (optional)
salt and pepper to taste
Instructions
Slice all of the kernels off of the cob using a sharp knife. Mix together corn, tomato, olive oil, lime, and basi/ or scallions (if using) in a large bowl. Taste and adjust seasons.
Keep in fridge for about 4 days.
Nutrition Facts
170 calories, 5.7 g fat, 31.0 g carbohydrates, 5.6 g sugar, 4.3 g protein, 4.0 g fiber, 4 mg sodium, 5 Points+
Points values are calculated by Snack Girl and are provided for information only. See all Snack Girl Recipes
$17.30 Buy on Amazon.com
As an Amazon Associate, I earn from qualifying purchases.
---
Other posts you might like:
---

Don't tell me you haven't noticed the piles of corn at the front of your local grocery store. The stacks of 10 ears for $2 are calling Snack Girl....
---

Deep frying food is cheating in my book. You can make a pencil taste delicious if you deep fry it....
---
---
Get Free Email Updates! Yes please!
---