Sweet Corn Is A Stellar Snack
Don't tell me you haven't noticed the piles of corn at the front of your local grocery store. The stacks of 10 ears for $2 are calling Snack Girl.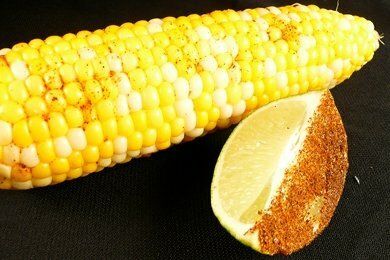 Sweet corn, sometimes called a vegetable (and always called a grain) is a great source of thiamin, folate, fiber, vitamin C, phosphorous, manganese, and those great cancer fighting phytochemicals.
On the ear, corn is not the evil processed grain that is dumped into our foods via high fructose corn syrup or other additives. It is more like a vegetable because it is FRESH and it is intact.
I have heard parents complain that their children will only eat corn (my son will eat it off the cob without even cooking it) and this is probably because it is sweet. But, you are getting a bunch of necessary nutrients with that sugar - so stop worrying about it.
Hey, better than an Oreo, right?
Corn is considered a "starchy" vegetable like a potato, but a medium potato has 36 grams of carbohydrates versus an ear of sweet corn's 14 grams of carbohydrates. Or course, portion size is going to play into how much starch you actually consume.
If you avoid adding butter to your corn, you are eating only 60-80 calories of a snack. How do you avoid butter?
Try using a little salt, chile, and lime. These flavors contrast with the sweetness - so you get sweet, sour, salty, and hot in one glorious bite. It is intensely flavorful.
After you purchase corn, cook it right away. I made the mistake last week of leaving it my fridge for 3 days before cooking it and the sugars had turned all starchy and it didn't taste very good :(
I salvaged it by cutting the cooked corn off the cob and making a corn, tomato, cilantro, and lime salad - which tasted delicious. Once the corn is cooked, you can toss it in your fridge as use it and it will remain fresh for a couple of days.
I like the simplicity of corn on the cob. I have included two methods of cooking it. The grilling method is very effective because the husk steams the corn. If you choose to boil or steam it, be sure not to overcook it. Nobody likes soggy corn.
How do you eat and/or prepare corn on the cob?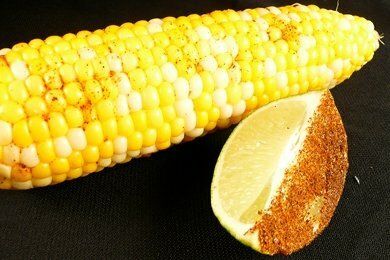 Chile Lime Corn Recipe

(serves 4)
4 ears corn
1 lime
1 teaspoon salt
1 teaspoon chile powder
Stove Method: Put a large pot of water on to boil. Shuck corn. When water is boiling add corn and cook for 2 minutes. Taste the corn for doneness - and let it go 2 more minutes or until you have cooked it to your desired tenderness.
Grill Method: Heat your grill with direct high heat for 10 minutes. Place the corn IN THEIR HUSKS on the hot grill. Cover. Turn the corn a couple of times until the husks are charred on all sides, about 15 to 20 minutes. Let cool for 5 minutes and using gloves remove the husks and silk.
Final Step: Slice lime into 4 quarters and mix salt and chile powder in a small bowl. Dip lime into chile-salt mixture. Squeeze lime onto cooked corn and enjoy!
63 calories, 0.9 g fat, 13.9 g carbohydrates, 2.4 g protein, 2.0 g fiber, 592mg sodium, 2 Points+
Points values are calculated by Snack Girl and are provided for information only. See all Snack Girl Recipes
Want to read about snacks?
Simple and Healthy Cooking From Top Chefs
Z Fries: The Latest In Nutritious, Delicious, and Low Cal Fries
I Can't Believe You Don't Eat Butter!
Whole Grain, Homemade Chip: Goodbye Potato Chips!
---
Get Free Email Updates! Yes please!
---