Crunchy Cauliflower Recipe
This crunchy cauliflower recipe is your go-to appetizer for the Super Bowl!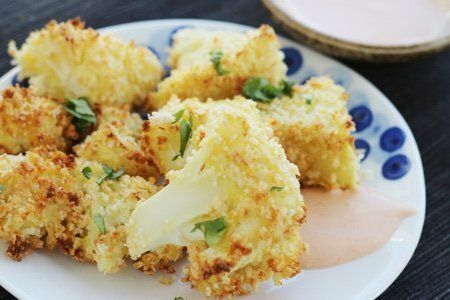 I have been criticized for my love of cauliflower but I continue to cook with it no matter what the consequences.
One of my favorite cauliflower recipes is incredibly simple – Smoky Cauliflower Recipe. All you do is roast it and add smoked paprika.
Cauliflower is a great vehicle for other flavors because it is so bland – and your family or friends might not even realize you served them something healthy.
Another favorite of mine is to turn cauliflower into alfredo sauce for pasta or whatever you want to use it for. I love how the cauliflower can taste like cheese and no one will know that you snuck in cauliflower.
My kids are sick of me sneaking cauliflower into everything (though they may be getting used to it). I don't really think of it as sneaking. I think of it as being creative!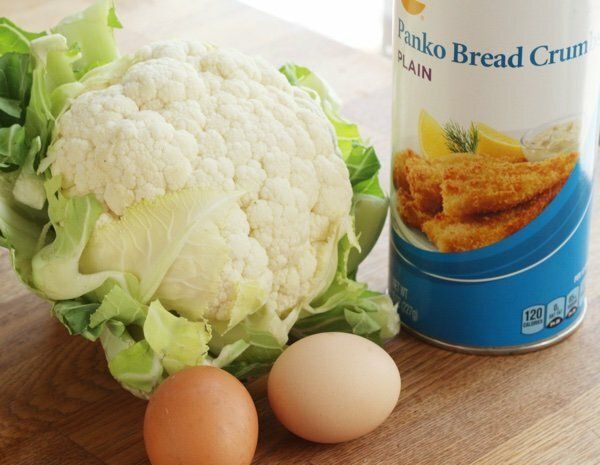 Cauliflower is so good for you -it is an excellent source of vitamin C, vitamin K, folate, pantothenic acid, and vitamin B6 and it is low in calories and high in fiber.
It is one of those super foods that your doctor is always trying to get you to eat – and if you just treat it correctly with a little love – it isn't a chore like some other stuff (chard – I am looking at you).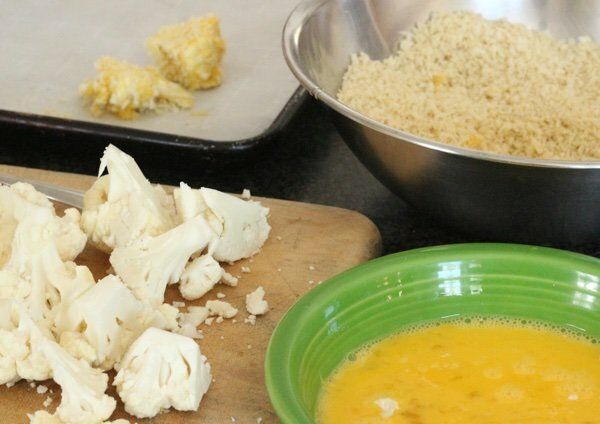 The cauliflower in this cauliflower crunch recipe needs some kind of sauce to make it work. I mixed mayo and Frank's Red Hot but you could use a less calorie sauce such as green salsa or simply Frank's Red Hot (which has zero calories).
Serve this as an appetizer or a snack. I love to eat this instead of potato chips when I am watching the game. You have plenty of time at half-time to toss this together and be back for the action.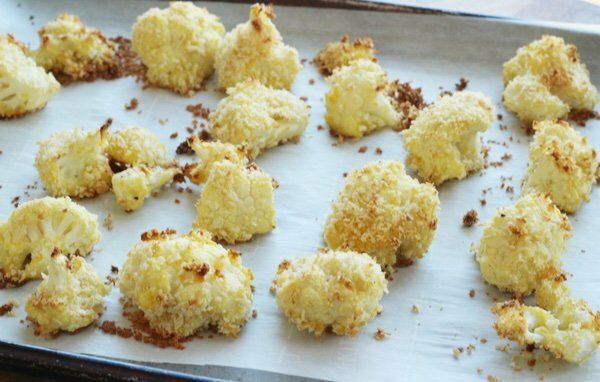 Do yourself a favor and don't tell everyone how good cauliflower is for them. They might start bugging you for deep fried mozzarella sticks if they think you are trying to serve them something that is healthy.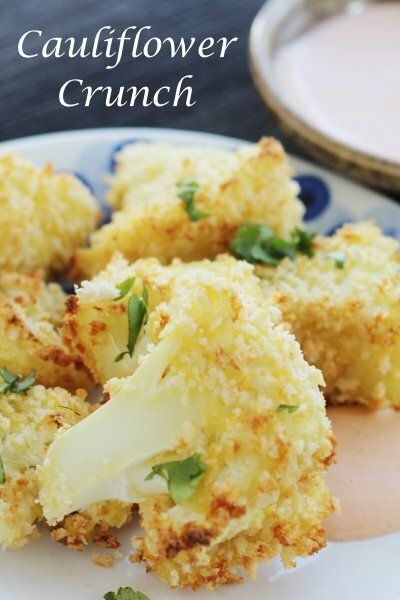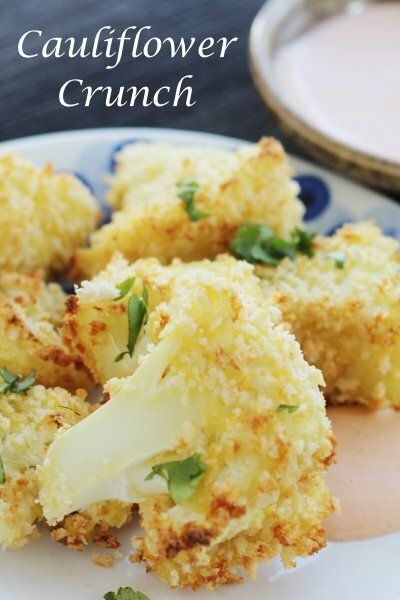 Crunchy Cauliflower Bites Recipe
Makes 24 bites
Ingredients
1 head cauliflower, cut into bite-sized florets
1 cup panko bread crumbs
3 eggs, beaten
For Dipping Sauce:
2 teaspoons Frank's Red Hot
1 tablespoon mayonnaise
Instructions
Heat oven to 400 F. Line a rimmed baking sheet with parchment paper. Dip cauliflower pieces into egg and then bread crumbs. Place on parchment paper and bake for 20 minutes until lightly browned and crunchy. Season with salt and freshly ground pepper,. Serve hot with sauce on the side.
Nutrition Facts
6 bites without sauce is 96 calories, 2.4 g fat, 0.0 g saturated fat, 14 g carbohydrates, 1.2 g sugar, 4.4 g protein, 1 g fiber, 180 mg sodium, 1 Purple, 1 Blue, 2 Green SmartPts
All of the sauce is 57 calories, 4.9 g fat, 0.7 g saturated fat, 3.5 g carbohydrates, 0.9 g sugar, 0.1 g protein, 0 g fiber, 300 mg sodium, 2 Freestyle SmartPts
Points values are calculated by Snack Girl and are provided for information only. See all Snack Girl Recipes
Other posts you might like:
---

Last month, I featured a recipe swap with carrots as the featured vegetable. Thanks so much for sharing your recipes.
---

Snack Girl is forever trying to sell you cauliflower. You can never have enough cauliflower in my opinion....
---
---
Get Free Email Updates! Yes please!
---