Cucumber & Tomato Bites for a Healthy Snack
September 15, 2015

1

Comment
The calendar says that summer isn't over. I, for one, am still pigging out on inexpensive produce.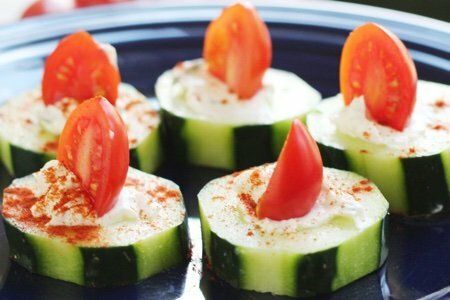 My friend, Bill, has a farm and has been practically giving away tomatoes and cucumbers! I thought I would make a pretty appetizer or snack instead of simply toss them, chopped, into a bowl with oil, vinegar, salt and pepper.
These are also a way to pamper yourself instead of a trip to the manicurist. They are three dimensional and make the statement, "I am worth more than Cheezwhiz on crackers."
Yes, you are, girl!
There is a wee little trick here with coring out the cucumber. It would be super easy with a melon baller but I don't have one. I used a spoon to scoop out some seeds so I could put the Neufchatel cheese and tomato into a cucumber "bowl".
I used thyme to flavor the Neufchatel but you could use oregano, basil, or whatever fresh herb you have (or nothing).
You could use hummus, guacamole, or whatever thick dip you have around to make these.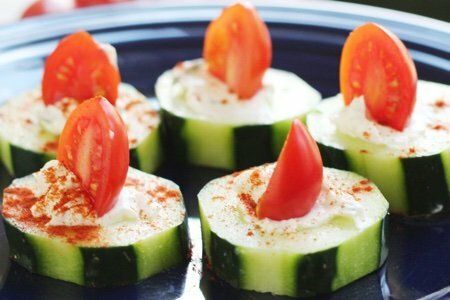 Cucumber and Tomato Bites Recipe
Makes 6 bites
Ingredients
1 medium cucumber
1 ounce Neufchatel cheese (next to cream cheese)
1 teaspoon fresh thyme, chopped (optional)
3 cherry tomatoes
dusting of paprika (optional)
Instructions
Peel the cucumber into strips so that you leave half the peel. Slice into 1.5 inch rounds. Heat cheese in microwave for a few seconds to soften and mix in thyme. Core out a bit of the cucumber and fill with ½ teaspoon or so of cheese.
Slice tomatoes in half and stand up in cheese and dust with paprika. Refrigerate for later or eat immediately.
Nutrition Facts
One bite is 22 calories, 1.2 g fat, 0.7 g saturated fat, 2.4 g carbohydrates, 1.1 g sugar, 0.9 g protein, 0 g fiber, 20 mg sodium, 1 Points+
Points values are calculated by Snack Girl and are provided for information only. See all Snack Girl Recipes
Other posts you might like:
---

These Laughing Cow Cheese wedges are an interesting take on cheese.....
---

Snack Girl is chomping on watermelon and loving it. A hot day, a slice of watermelon, and watermelon juice all over the place. This is summer!...
---
---
Get Free Email Updates! Yes please!
---