Why Watermelon Makes Us Feel Good
Snack Girl is chomping on watermelon and loving it. A hot day, a slice of watermelon, and watermelon juice all over the place. This is summer!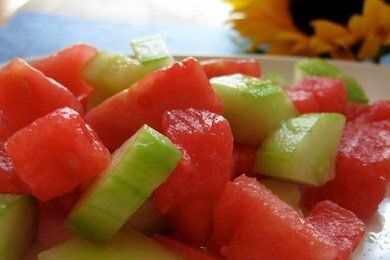 I buy a watermelon, slice it up into cubes, and put it in a plastic container for munching. I leave it in the front of the refrigerator so it is the FIRST thing I grab when I want to snack.
So, why the attraction? Watermelon is:
92% water
Usually pink
Crunchy and sweet
So you get pink, sweet, crunchy hydration!
How can you go wrong? I have been trying to find uses for it because when you buy a large one it can be difficult to finish.
Last year, I posted a watermelon feta salad recipe and it IS one of my go to salads during the summer months. And, I like to puree watermelon in the blender, add a little honey, and have a watermelon drink.
My latest watermelon love features lime, salt, and cucumber and it is ridiculously easy to make and I can't stop eating it.
Which is a good thing because it is low in calories and high in satisfaction!
My kids will scarf this down (and even eat the cucumber).
Don't add the salt until the very last second before serving and try to keep the salad COLD. If I was taking this to work, I would bring a salt shaker with me because as soon as you add the salt the watermelon begins to get soggy.
I would also add some high quality chili powder (1/2 teaspoon or so) if only my children would let me ;-)
What is your favorite watermelon salad?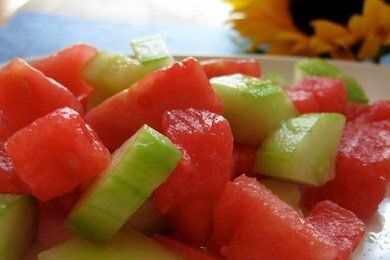 Watermelon Cucumber Salad Recipe
(serves 4)
Ingredients
1 English cucumber
3 cups seedless watermelon (cubed)
1 lime
3/4 teaspoon salt
chili powder (optional)
Instructions
Peel and cube the cucumber and mix with watermelon in a large bowl. Juice one lime and pour over mixture. Store in refrigerator until ready to serve. When ready, add salt and optional chili powder. Enjoy!
Nutrition Facts
51 calories, 0.3 g fat, 13.1 g carbohydrates, 1.3 g protein, 1.3 g fiber, 441 mg sodium, 0 Points+
Points values are calculated by Snack Girl and are provided for information only. See all Snack Girl Recipes
Want to read about snacks?
You Don't Need The Bread For This Healthy Snack
A Fruit You Just Gotta Try
Will "Newtons Fruit Thins" Keep You Thin?
Evidence That Junk Food Snacking Will Shorten Your Life
---
Get Free Email Updates! Yes please!
---