Treat Yourself When Shopping in the Mall
The shopping malls of the U.S. are dangerous places for people who watch their weight. Since this category of people is just about everyone (if you can eat whatever you want without gaining weight, you are in the minority), the weekly trip to the mall can pose a problem.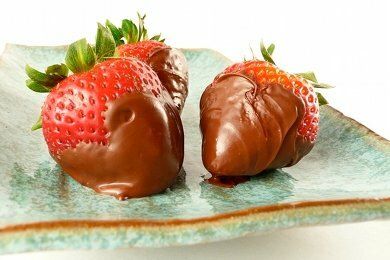 The smells wafting from Cinnabon, Mrs. Fields, or Auntie Anne's Pretzels are impossible to avoid.
What chain will come to your rescue? Godiva, of course. Godiva Chocolatiers has dark chocolate covered strawberries all year round in all of their locations.
It will set you back some change - the price ranges from $4.50-$10.50. The $10.50 strawberry is found in New York City, and is large according to a Godiva sales associate.
But, the expensive price tag will limit how many you buy and therefore how many you eat. And you can't just eat this on the run. Sit down and enjoy this lovely confection and feel good about your purchase.
Why? Because it combines Strawberries Prevent Cancer and Dark Chocolate, two very nutritious foods. Secondly, they taste great!
Finally, the calorie count on these is an estimate. A strawberry usually sets you back about 7 calories. No one at Godiva would say how much chocolate is usually on a chocolate covered strawberry.
Remember that there is 150 calories in one ounce of dark chocolate and that should help you estimate the calories in your treat.
Don't have the change to buy the Godiva version? No worries, you can make them at home. These make a great after school snack or elegant easy dessert.
---
Chocolate Covered Strawberry Recipe
5 strawberries
1/2 cup dark chocolate chips
wax paper and cookie sheet

Place on sheet of wax paper on a cookie sheet. Melt chips in coffee cup in microwave (use 10 second increments to ensure they don't burn). Wash and dry strawberries and dip in chocolate. Place on cookie sheet in fridge and eat in 30 minutes. Or eat them right away (no one will know).
Want more like this?
Candy that is good for you
Chocolate is made from plants
How To Prevent Cancer