Need Some Intense Dark Twilight Delight?
Since this is a family blog, you KNOW I am talking about dark chocolate. Snack Girl was cruising through the candy aisle when she found these.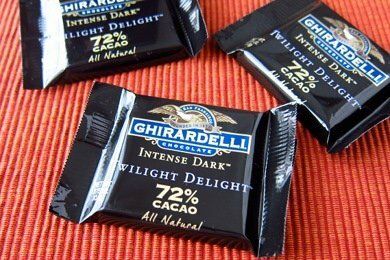 Ghirardelli's "Intense Dark Twilight Delight" is only 55 calories per square! For me, it is a great way to get a taste of chocolate without inhaling a large serving (my downfall).
Not only does Ghirardelli promise intense delight, but they include "moments of timeless pleasure". Man, that sounds good :)
This chocolate come in bags of 12 and it cost $2 per bag (on sale) at my supermarket.
Why was I in the candy aisle? Well, Geneen Roth had inspired me to look for some high quality chocolate. In her book, "When You Eat At The Refrigerator Pull Up A Chair", she advocates carrying chocolate in your purse, backpack, or briefcase.
The reason? Well, let's say you are at the end of dinner and you are looking at the dessert menu. Then, you remember you have 55 calories of scrumptious chocolate in your bag.
You order coffee and eat your chocolate - saving you both money and inches on your butt.
There it is! Most of us have times of day when we crave a sweet. I have written about my desire for cookies at 3 PM and no amount of healthy snack writing or eating seems to sway me.
So, I get a little square of chocolate, and I enjoy it. My kids also like one square for dessert after dinner (how could I say no?).
Remember, dark chocolate contains a ton of antioxidants and flavonoids, the compounds implicated in helping us fight against cancer and heart disease.
Dark chocolate is GOOD for you in small quantities. The key is to figure out how to keep your quantities small.
Thanks, Ghirardelli!
Serving Size = 1 piece
55 calories, 5 g fat, 5 g carbohydrates, .7 g protein, 1 g fiber, 0 mg sodium, Points+ 2
What is your chocolate solution?
---
$9.95 $6.50 Buy on Amazon.com
As an Amazon Associate, I earn from qualifying purchases.
---
Want to read about snacks?
Simple, Delicious, and Low Calorie Smoothie Recipes from Camp Shane
What To Do With Lots of Celery?
Transform Broccoli Into a Food the ENTIRE Family Will Eat
Gluten-Free Healthy Snacks