Gluten-Free Healthy Snacks
Many people have started following a gluten-free diet. What does that mean?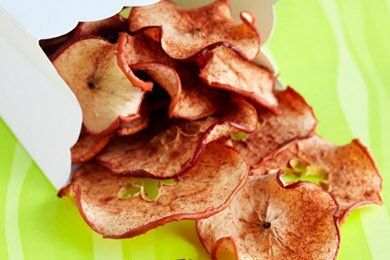 They don't eat gluten which is a protein found in wheat, barley, rye, kamut, and spelt. Gluten is also a food additive and can be hidden under the names "maltodextrine" and "dextrine".
These people may be allergic to it, or just feel better not eating it, or have celiac disease. If you have celiac disease, a small amount of gluten can cause your immune system to damage your small intestine.
But, celiac disease is pretty rare. For example in 2003, just 40,000 Americans were diagnosed with celiac disease (but that number is growing).
Why are so many people choosing gluten-free? Well, I think that people feel better when they don't eat the many processed foods that use gluten.
Think about it. Start your day without toast or a donut, then don't eat a sandwich for lunch, and then skip the pizza for dinner. So, what did you eat?
You probably made much better choices by going gluten-free. Maybe you had my yogurt, walnut, and maple syrup breakfast, a salad for lunch, and a lovely stew with carrots, potatoes, and peas for dinner.
Hey, what about your snacks?
Well, I spent most of yesterday going through every single snack on Snack Girl and came up with 84 GLUTEN-FREE HEALTHY SNACKS! Here is the list:
Snack Girl's Gluten-Free Snacks
Since my goal is to feature fruits, vegetables, and low calorie snacks, I have stayed away from gluten without even realizing it (like those apple chips - photo above).
Wheat flour is calorific and many of the packaged snack choices that include gluten are not healthy - for example - The Worst Snack of 2010.
Perhaps, gluten-free girl and Snack Girl could become friends. Since we are girly, we could braid each others hair, get manicures, and broker a peace accord between the Palestinians and the Israelis.
Actually, I just missed meeting Shauna gluten-free girl at a foodie gig that I attend. She has celiac's disease and she has written a cookbook that the New York Times named as one of the best cookbooks of 2010 (see below). You go girl!
I haven't read, "Gluten-Free Girl and The Chef", but if it is anything like her blog, it rocks.
On a more personal note, a good friend just started a gluten-free diet and is feeling much better. I held a small dinner party and two people attending were gluten-free (we had roast chicken, potatoes, and brussels sprouts). I feel surrounded!
Here are some other Snack Girl lists that may be helpful:
Have you tried going gluten-free? Please share.
---
$29.95 $7.25 Buy on Amazon.com
As an Amazon Associate I earn from qualifying purchases.
---
Want to read about snacks?
Simple, Delicious, and Low Calorie Smoothie Recipes from Camp Shane
How To Avoid Wasting Carrots
Holiday Weight Gain: Fact or Fiction?
A Healthy Snack Friend In The Ice Cream Aisle