Do It Yourself Healthier Reese's Peanut Butter Bites
Did you grow up with the commercial where the chocolate bar ended up in the peanut butter? I am probably dating myself.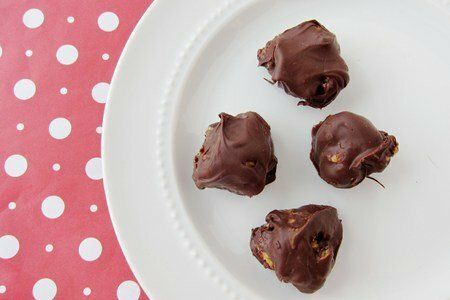 Who doesn't love the combination of chocolate and peanut butter? The good news is that peanut butter is a healthy food (without the added sugars and oils), so if you keep the amount of chocolate in check, you could have a relatively healthy candy.
Instead of using the oven to make these, you use your freezer. Because these are made by YOU instead of Hershey's they need to be kept in the refrigerator or they will melt. Sad, I know. I'm not sure how they do it - though it may be that they use something called "TBHQ".
Since you don't have any TBHQ, you will have to use your fridge. If you do have TBHQ, can you tell me what it is?
These are simple to make and kids love them. They are a bit messy when you start to swirl them into the chocolate so don't wear your best silk blouse.
I love these with my afternoon coffee or as a portion controlled dessert. Don't tell your partner that you made them or they might end up gone. My husband found these addictive.
What is your favorite peanut butter and chocolate recipe?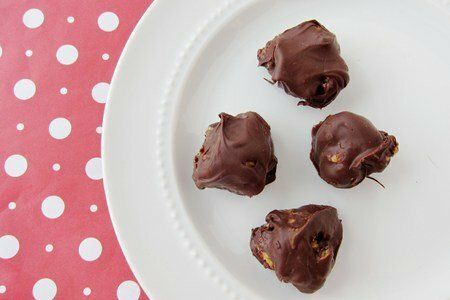 Peanut Butter Chocolate Bites
(makes 20)
Ingredients
½ cup crunchy natural peanut butter (with no additives)
¼ cup crushed salted pretzels
½ cup chocolate chips, melted
Instructions
To crush the salted pretzels, place them in a plastic bag and smash with your hand or the back of a large spoon. Mix peanut butter and pretzels in a small bowl and chill in the freezer until firm for 20 minutes. Using a teaspoon measure, make 20 balls and place them on a parchment paper lined baking sheet. Freeze balls for 2 hours or overnight.
Melt chocolate in microwave on medium for 1 minute. Stir, then continue microwaving for 20 second intervals until melted. Roll frozen peanut butter balls in melted chocolate and refrigerate until chocolate is set, about 20 minutes.
Nutrition Facts
For one ball: 64 calories, 4 g fat, 1 g saturated fat, 5 g carbohydrates, 3.0 g sugar, 2 g protein, 1 g fiber, 53 mg sodium, 2 SmartPts
Points values are calculated by Snack Girl and are provided for information only. See all Snack Girl Recipes
Other posts you might like:
---

Peanut butter is a great addition to a healthy snack. Spreading it on apples or crackers is an excellent way to add fat and protein (and taste!) to a dull food....
---

Snack Girl features peanut butter A LOT. I happen to love the stuff and I use it almost every day....
---
---
Get Free Email Updates! Yes please!
---