Make Your Own "Uncrustable"
Snack Girl is having her Martha Stewart moment. Yes, I am making shapes for my kid's lunchboxes.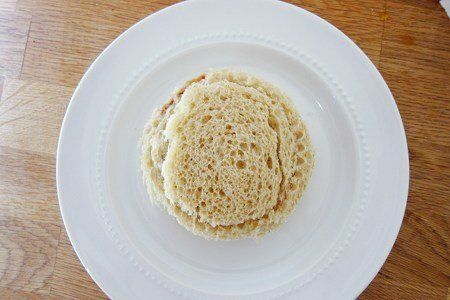 My post about Uncrustables stirred up a lot of controversy and led me to think about making my own. I decided it would be fun to get my hands on a Cut-N-Seal from Pampered Chef (they sent me one for free) and try my hand at making my own frozen PB&J without the crust.
The photo above is my sixth or seventh attempt. Here is the Smucker's version: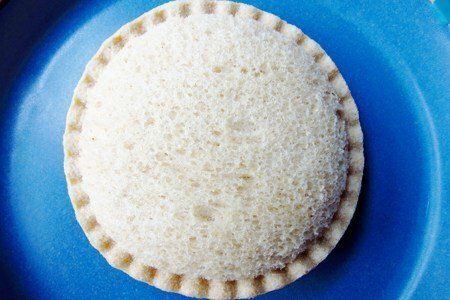 Obviously, I am NO Martha Stewart, but my kids really liked these and they don't know who Martha Stewart is yet - so I am safe.
My sandwiches come without the trans fat, high fructose corn syrup, or locust bean gum (whatever that is). I hate to say it, but these were fun to make and I hear that there are plastic sandwich cutters in major supermarkets (so you don't have to drop $10 at Pampered Chef or be a food blog writer to get your hands on one).
I used 100% Whole Wheat bread, all natural peanut butter (no added oil or sugar), and some strawberry jam.
Now, Uncrustables are frozen, so I tried to freeze mine in the hopes that they wouldn't become soggy. The key to this is to wrap them individually in plastic wrap and then put them in a sandwich bag - which I learned from Skinny Mom's Kitchen.
These tasted pretty much the same as the Smucker's version.
For those of you who think I am being indulgent by cutting off the crusts of my kids sandwich - every day I receive a lunchbox from school filled with crusts. I know I should try to get them to eat it (oy, the waste!), but some days it is simpler just to cut them off.
I hope they learn to love crusts in the future.
For those adults out there who love PB&J, just forget the sandwich maker and make some frozen sandwiches for those days when you are in a rush. It is SO helpful to have a stash of healthy food to keep you from the junk.
This product was received for review consideration. No other compensation was provided.
---
Other posts you might like:
---

It's a bird! it's a plane! it's a sandwich?? Yo, this looks a wee bit strange....
---

Summer is coming to a screaming halt for families all over the country. Did you notice the advertisements for school supplies everywhere?....
---