Watch Out Taco Bell - Here Comes The Snack Girl Waffle Taco
A couple weeks ago, Snack Girl flamed Taco Bell's new waffle taco.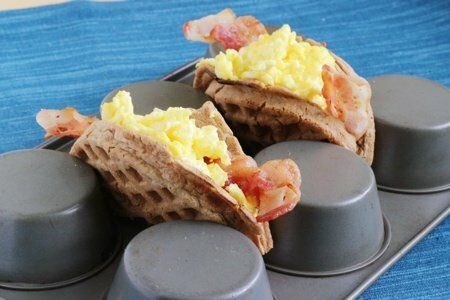 I got a couple e-mails requesting that I try to make my own waffle taco. This seemed like such a good idea!
After creating the tacos using my favorite brand of toaster waffle (Van's), I had a problem. How do I serve them? Taco Bell had molded its product so that you could pick it up. Mine fell apart and the egg went squishing out on the plate.
There are things called "taco holders" which I have seen in restaurants but these proved to be difficult to find. After many hours of searching (not really), I found a solution. Turn over a muffin tin and you have an instant Taco Waffle holder.
Genius!
Probably not genius – but this might get me a "Mother of the Year" recommendation. Okay, I will take "Mother of the Hour".
This is delicious, easy, and fun. My version has 200 fewer calories, 24 grams less fat, and 200 mg less sodium than the Taco Bell version. I did leave off the cheese because I thought that was kinda gross.
Do you have a fast breakfast recommendation to share?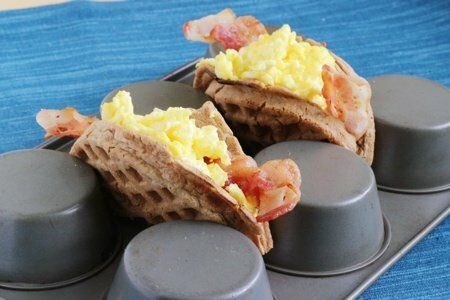 Waffle Taco Recipe
Makes 2 tacos
Ingredients
2 Van's Whole Grain Waffles
2 eggs
2 slices center-cut bacon
Instructions
Place waffles in toaster on a low setting. Cook bacon in a small frying pan until crispy, drain fat, and scramble eggs.
Place waffle in an upside down muffin tin and stuff with scrambled eggs and bacon. Serve immediately.
Nutrition Facts
One taco is 163 calories, 8.9 g fat, 2.1 g saturated fat, 25.3 g carbohydrates, 1 g sugar, 10.5 g protein, 3.5 g fiber, 332 mg sodium, 6 Points+
Points values are calculated by Snack Girl and are provided for information only. See all Snack Girl Recipes
Other posts you might like:
---

Snack Girl knows how hard it can be to eat a healthy breakfast in the morning. I frequently get to work and feel like putting my head on my desk....
---

How many of you need to be saved from the Egg Mcmuffin? Or a huge muffin? Do I have a recipe for you!...
---
---
Get Free Email Updates! Yes please!
---