Don't Eat Your Breakfast Here
Snack Girl knows how hard it can be to eat a healthy breakfast in the morning. I frequently get to work and feel like putting my head on my desk.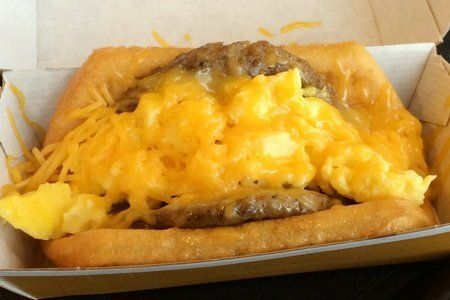 Yesterday, we lost one of my son's shoes and because he is growing so fast (and kid's shoes are so expensive)– he only has one pair of shoes that fit. After the bus had passed our house, my daughter found the rogue shoe and I was saved from the humiliation of sending my son to school in socks.
Did I eat breakfast? No. I didn't. Did I stop at Taco Bell? No, I didn't. I did, however, go there today to sample their new breakfast offering – the Waffle Taco. I left the photo in color above because I found the look of it completely unappetizing. Doesn't it look like it landed from outer-space?
Why did I go try it? I try these fast food offerings because I want to motivate people to STAY AWAY. I have gotten flamed for writing about this stuff but I continue to do it.
Fast food breakfast is estimated to be a 30 billion dollar industry so don't tell me there isn't someone out there reading this on their phone– standing in line at this very moment – ordering breakfast at a fast food chain.
Waffle Taco with Sausage nutrition facts:
370 calories, 23 g fat, 7 g saturated fat, 28 g carbohydrates, 8 g sugar, 12 g protein, 1 g fiber, 550 mg sodium, 10 Points+
Ouch! The fat here is really out of control. My breakfast sandwich – Baked Eggs and Cheese in Toast Cups - has about 9 grams of fat and it uses both eggs and cheese.
I will admit to inhaling all of this taco because I found that it tasted really good. I was shocked because I thought it was going to taste like a chemical sandwich but I didn't taste anything off. It is scary how quickly I ate 370 calories and, yes, I was hungry again before lunch.
I hadn't read the nutrition facts BEFORE I ate it. Whoops! It seems that Taco Bell has figured out how to hit that fatty, salty, sweet bliss point with this sandwich.
Why is Taco Bell making breakfast?
"Breakfast is still the most under-penetrated daypart for the restaurant industry," Tristiano (a fast-food analyst) told The Huffington Post. "So many individuals either skip or eat breakfast at home that there's a huge opportunity to get consumers out there."
(I love that he uses the word "penetrated" because it makes me think of another word that we will all be if we eat this stuff. But, I am not going to share that word because this is a family website.)
Noooooooo! Stay home, eat your breakfast, and try something from this list if you are tempted to eat a fast food meal – Top Ten Breakfast Ideas.
To Taco Bell I would say, we are not simply consumers but HUMANS who need nourishing food. We do not need to be penetrated by a Waffle Taco or whatever other fat, salt, and artificial-ingredient filled "food" you come up with.
Have you heard about the Waffle Taco? What do you think?
---
Ingredients:
EGGS - Whole Eggs, Butter Flavor (Liquid And Hydrogenated Soybean Oil, Salt, Soy Lecithin, Natural And Artificial Flavor, Beta Carotene (Color), TBHQ And Citric Acid Added To Protect Flavor, Dimethylpolysiloxane, An Anti-foaming Agent Added). Contains Less Than 1% Of The Following: Salt, Citric Acid, Pepper, Xanthan Gum, Guar Gum. CONTAINS: EGGS, MILK AND SOYBEANS
CHEDDAR CHEESE - Cultured Pasteurized Milk, Salt, Enzymes, Annatto (Color), Anti-Caking Agent. CONTAINS MILK
WAFFLE - Water, Enriched Wheat Flour (Niacin, Reduced Iron, Thiamine Mononitrate, Riboflavin, Folic Acid), Modified Food Starch, Contains 2% Or Less Of The Following: Egg Whites, Sugar, Soybean Oil, Leavenings (Sodium Acid Pyrophosphate, Sodium Bicarbonate, Monocalcium Phosphate), Natural And Artificial Flavor, Whole Egg Powder, Buttermilk Powder, Salt, Soy Flour, Potassium Sorbate. CONTAINS: MILK, EGGS, WHEAT, GLUTEN, SOY
SAUSAGE PATTY - Pork, Seasoning (Salt, Corn Syrup Solids, Spices, Dextrose, Caramel Color, Autolyzed Yeast Extract, Natural Flavor, And Less Than 2% Soybean Oil And Silicon Dioxide Added As Processing Aids), And Water.
---
Other posts you might like:
---

The taco salad is a relatively new invention which is Mexican inspired, but, in my opinion, has nothing to do with the great cuisine of Mexico. How could we go so wrong?....
---

Okay, so your kid just did something amazing (like solve climate change) and you want to treat him to lunch. What does he ask for?....
---