Do-It-Yourself Instant Oatmeal: Healthy and Insanely Easy
There is an entire ¼ aisle of my grocery store devoted to little packages of oatmeal.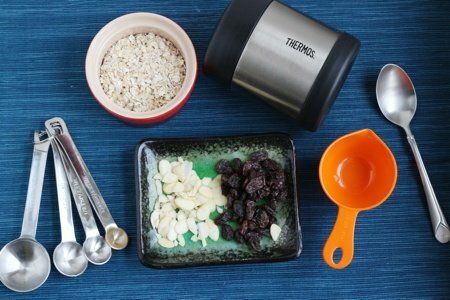 These packages are expensive and frequently loaded with added sugar. They also don't taste very good but they are convenient.
What if you could save money and the environment by making your own instant oatmeal? I promise it will taste delicious instead of like sweetened cardboard.
JUST DO IT!
Honestly, I don't know why I didn't figure this out years ago. Bad, Snack Girl! What was holding me back is that I didn't think that 1 Minute Oatmeal (or quick oatmeal) could be cooked by adding water. Quick oatmeal is cooked on the stove (like regular oatmeal) so I didn't try.
But, guess what? If you add boiling water into a Thermos and wait three minutes – the quick oatmeal is the perfect texture!
You don't have to use a stainless steel Thermos. You could use a bowl and cover it after you add the water. I found this Thermos at Target and have been using it for a couple years now. It is worth the extra money because it is very high quality.
This opens you up to creating your own instant oatmeal with dried fruit and nuts and no added sugar (unless you want it). You can store individual servings in baggies or buy a couple thermos to have them ready to go.
This is a great alternative to the McDonald's oatmeal, Starbucks oatmeal, or Real Medleys from Quaker.
I did a really simple version here with raisins and sliced almonds so you can get an idea of the proportions.
What would you put in your instant oatmeal?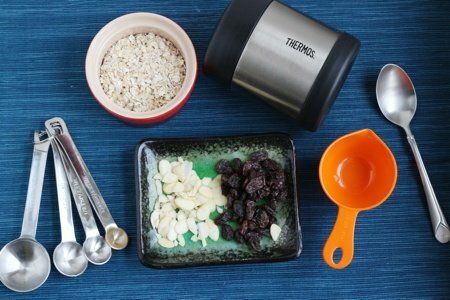 DIY Instant Oatmeal Recipe
serves 1
Ingredients
1/3 cup quick oats (AKA 1 Minute Oats)
2 tablespoons raisins
2 tablespoons sliced almonds
1 generous pinch salt
Instructions
Mix oats, raisins, almonds, and salt in a 10 ounce thermos. When ready to eat, add 2/3 cup hot boiling water and cover. Wait three minutes and eat.
Nutrition Facts
226 calories, 7.8 g fat, 0.8 g saturated fat, 35.4 g carbohydrates, 11.5 g sugar, 6.7 g protein, 4.9 g fiber, 100 mg sodium, 6 Points+
Points values are calculated by Snack Girl and are provided for information only. See all Snack Girl Recipes
---
currently unavailable Buy on Amazon.com
As an Amazon Associate I earn from qualifying purchases.
---
Other posts you might like:
---

Last week, I posted What You Need To Know About McDonald's Oatmeal. Immediately, I was asked about Starbucks' oatmeal....
---

I love how Quaker uses the word "real" because it makes you think the product isn't fake....
---
---
Get Free Email Updates! Yes please!
---