What You Need To Know About McDonald's Oatmeal
McDonald's is now featuring "Fruit and Maple Oatmeal" and you can get it ALL day - not just for breakfast.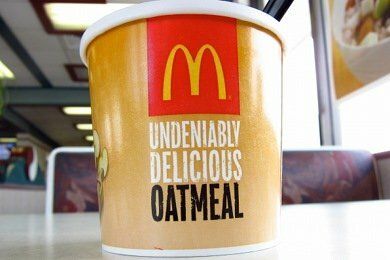 I took a trip out to my local McD's to give it a try. Is it undeniably delicious oatmeal? Since I wrote this post in 2011, I have been back – and there is a way to order McDonald's oatmeal and save 29 grams of sugar – be sure to check out this post.
Why do I go to McDonald's?
Well, even though it is a mega-corporation that has some scary practices (and food), I believe it can be a force of good. McDonald's gives us what WE want. Maybe we want a tofu burger with a 100% whole grain bun. Maybe McDonald's will listen and give it to us.
My trip to McDonald's began with ordering a cup of Newman's Own ORGANIC coffee and 100% WHOLE GRAIN oatmeal. What's next? Arugula? :)
Here is what it looks like: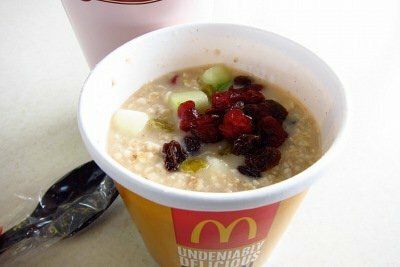 Ingredients:
Oatmeal- Whole grain rolled oats, brown sugar, food starch-modified, salt, natural maple flavor with other natural flavor (plant source), barley malt extract, caramel color.
Diced Apples- Apples, calcium ascorbate (a blend of calcium and vitamin C to maintain freshness and color).
Cranberry Raisin Blend Dried sweetened cranberries (sugar, cranberries), California raisins, golden raisins, sunflower oil, sulfur dioxide (preservative).
Light Cream Milk, cream, sodium phosphate, datem, sodium stearoyl lactylate, sodium citrate, carrageenan.

Nutritional Information: 290 calories, 4.5 g fat, 57 g carbohydrates, 5 g protein, 5 g fiber, 160 mg sodium (Points+ 7)
How do they make it? It is instant oatmeal with the sugar pre-added and then they add hot water, cranberry raisins, diced apples, and light cream. I watched the chef (AKA McD's manager) mix it up himself.
There is some good news here.
It tastes delicious.
It has a little fresh fruit.
The calories are not out of control.
This oatmeal has almost the same nutritional facts as my Apple Peanut Butter Oatmeal. Of course my oatmeal didn't have any sodium stearoyl lactylate (I was fresh out).
So the bad news:
It has a bunch of chemicals that you may deem to be unsavory.
I was hungry about 2 hours after eating it.
Should be called FRUIT and BROWN SUGAR oatmeal as there is no maple syrup (just maple flavoring).
Also, it is a bit sweet. The downside of having it pre-made is that you can't adjust the sugar. My Apple Peanut Butter Oatmeal had 11 grams less sugar in it, but I actually add a little maple syrup to the recipe to make it work for me.
I probably wouldn't eat this every day, and if I HAD to, I would bring some peanut butter to add some protein to the carbohydrates in this oatmeal. Then it would be closer to a healthy breakfast.
As a snack, it is a bit large, but it is much better than many of the other food served there that I would say go for it.
If you don't add the Cranberry Raisin blend you can bring it down to 220 calories, which is pretty close to a reasonable snack.
Check out my comparison between Starbucks and McDonald's oatmeal if you love to eat your oatmeal at either spot.
What do you think of McDonald's new oatmeal?
---
Other posts you might like:
---

Do you know you can order oatmeal 24 hours per day at McDonald's? Take THAT Big Mac!...
---

Last week, I posted What You Need To Know About McDonald's Oatmeal. Immediately, I was asked about Starbucks' oatmeal....
---