What You Need To Know About McDonald's Oatmeal
McDonald's oatmeal has been around since 2011 and it has barely changed since its debut.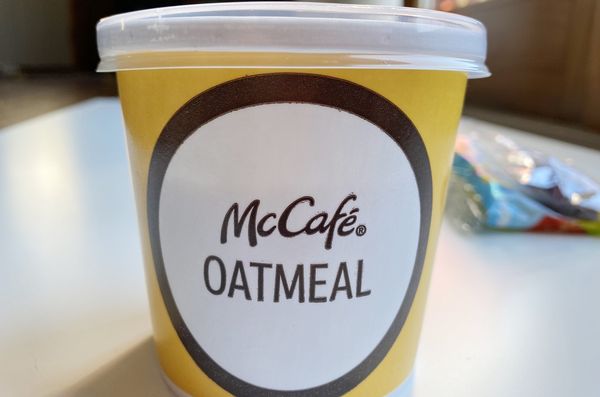 When it first came out, I wanted it to be a healthy option for a fast food breakfast. Finally - McDonald's was offering oatmeal instead of deep fried potatoes!
Oatmeal is prized for its nutrition benefits. The fiber in oats may help in the prevention of heart disease and diabetes.
It turns out that you can ruin oatmeal's healthy qualities with 33 grams of sugar per serving. That is over 2 tablespoons of sugar!
If I have already convinced you to avoid McDonald's oatmeal check out my DIY instant oatmeal and healthy slow cooker oatmeal for some actual healthy options.
Here is what it looks like when you first order it. Don't try to drive and put this together as you will end up with raisins squished in the driver's seat of your car. Go ahead and pull over to mix it.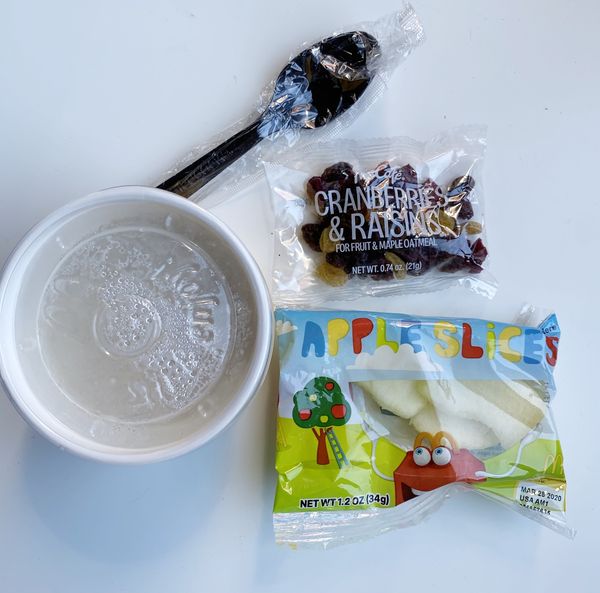 Looks good right? oatmeal! apples! raisins and cranberries!
At first glance there seems nothing to fear. Oatmeal should be an easy win and this one could fit in your cup holder.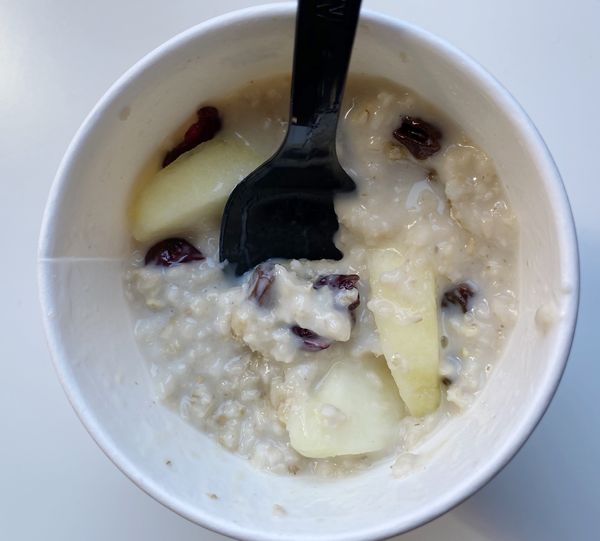 The ingredients seem okay except for the cream which has some strange stuff in it - probably because it is not fresh cream. Food manufacturers add all kinds of things to keep food shelf stable.
Ingredients for McDonald's Fruit and Maple Oatmeal:

Oatmeal-
Water, whole grain rolled oats, brown sugar, food starch-modified, salt, natural flavor, barley malt extract, caramel color.

Diced Apples-
Apples, calcium ascorbate (a blend of calcium and vitamin C to maintain freshness and color).

Cranberry Raisin Blend
Dried sweetened cranberries (sugar, cranberries), California raisins, golden raisins, sunflower oil, sulfur dioxide (preservative).

Light Cream
Milk, cream, sodium phosphate, datem, sodium stearoyl lactylate, sodium citrate, carrageenan.

McDonald's oatmeal has brown sugar and cream and it isn't super high in fat. The five grams of fiber - is perfect for a healthy breakfast.
The problem is the added sugar.
Nutritional Information:
310 calories, 4 g fat, 1.5 g saturated fat, 62 g carbohydrates, 33 g sugar, 6 g protein, 5 g fiber, 140 mg sodium, 13 Purple, 13 Blue, 13 Green WW SmartPts
How much added sugar is in this oatmeal? 18 grams - or more than one tablespoon. The rest of the sugar is from the raisins and cranberries (which is natural sugar and not that bad).
How do they make it? It is instant oatmeal with the sugar pre-added and then an employee adds hot water and light cream. You add the cranberries and raisins, and diced apples.
I guess they were in a hurry because mine wasn't mixed all the way. see here: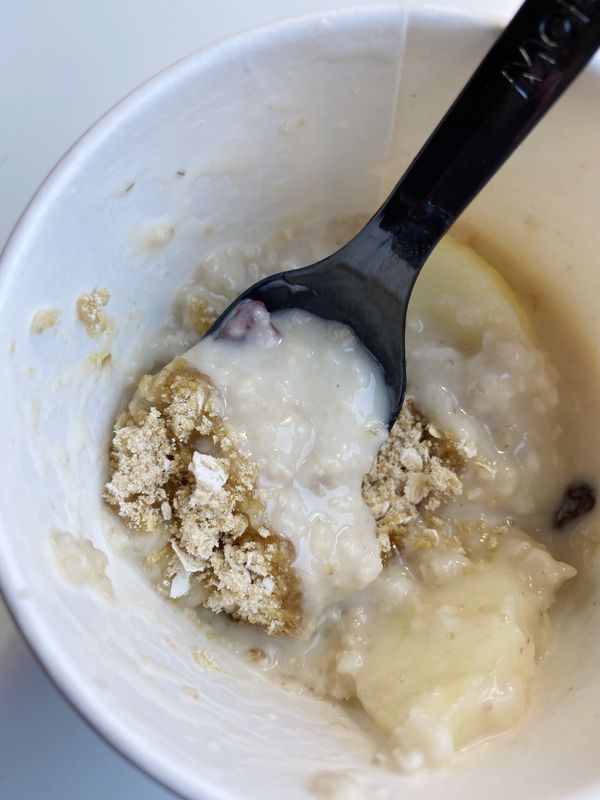 You cannot ask for the sugar on the side. I wish you could and then this would be a healthy option. The sugar is already mixed into the oatmeal as a mix. WHY?!
Doesn't McDonald's already have sugar packets? Maybe they don't as I never order a coffee with sugar.
At Starbucks, they give you the sugar on the side (and some nuts) BUT it costs more than twice as much as the McDonald's version.
So the bad news:
It has 33 grams of sugar (one tablespoon added sugar)
I was hungry about 2 hours after eating it.
Should be called FRUIT and BROWN SUGAR oatmeal as there is no maple as far as I can see (lawsuit?).
My advice is to avoid the McDonald's oatmeal and order the Egg Mcmuffin - check out my review of the Egg McMuffin and the best way to order it.
Another option is to buy your own instant oatmeal and add hot water to it. Please be aware that the prepackaged oatmeal can also be packed with sugar. Look for ones with no sugar added and you will be doing so much better.
What do you think of McDonald's oatmeal?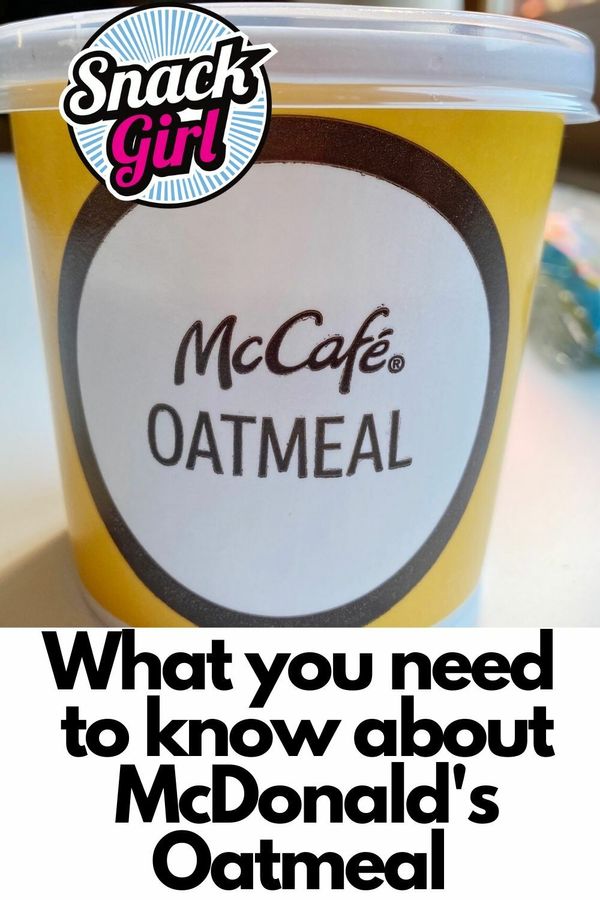 ---
Other posts you might like:
---

There is an entire ¼ aisle of my grocery store devoted to little packages of oatmeal....
---

This healthy slow cooker oatmeal is for all the people who want a hot breakfast and don't have time to make it.....
---