Avoid The Evil Muffin at Starbucks With This Healthy Snack (Giveaway, too!)
Starbucks is a great place for a pick me up. People stop there and grab something to keep them awake.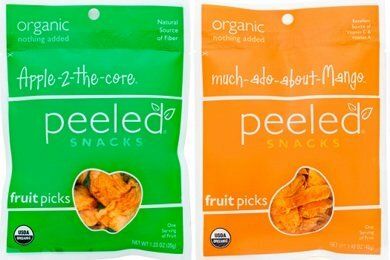 If Starbucks had just stuck to Coffee, Snack Girl readers would be safe to enter the store and grab a 2 calorie beverage of roasted bean juice.
But, alas, there are This Muffin Has a Dark Secrets, scones, cookies, and white chocolate mochas. Yikes.
What to do? Well, a company called Peeled Snacks has come to our rescue.
The snacks are 120-150 calories of dried fruit in brightly colored plastic bags. I have not only seen them at Starbucks but also in airports around the country. They taste absolutely delicious because Peeled Snacks is not your average dried fruit purveyor.
The company has a "Real Food Philosophy". Here is a quote:
We keep our snacks as close to natural as possible by using high quality ingredients. When you bite into a juicy piece of fruit or a crunchy nut, you'll wonder why anyone would want to add sugar or fat.
I had never had dried fruit that tasted this good until they sent me a sample. It is going to cost you (on average $2 per bag)
There is a lot of sugar in dried fruit, but you will also get the good stuff of fiber, protein, and vitamins. These are a great way to have a treat without a mega calorie cost.
The cool people at Peeled Snacks would like to give a Snack Girl reader an Organic Fruit Picks Variety Pack.
To enter check out the Peeled Snacks website and pick a fruit that sounds good to you. Post your choice in the comment box below and you are entered!
This product was received for review consideration. No other compensation was provided.
---
$29.60 ($2.41 / Ounce) Buy on Amazon.com
As an Amazon Associate, I earn from qualifying purchases.
---
What will I win?
An Organic Fruit Picks Variety Pack from Peeled Snacks. ($23 value)
How do I enter?
Comment below on your favorite dried fruit flavor.
Additional Ways To Enter:

Follow Snack-Girl on FaceBook.

Comment on our wall about about your favorite dried fruit flavor.

Follow Snack-Girl on Twitter

Tweet this post (use the Tweet Button in the Share Box at the top of this post).

Snack-Girl can follow and count all the additional entries using magical website tools.
Am I eligible to enter?
This giveaway is offered to US residents only.
When do I find out if I am the winner?
The winner will be announced on September 15th, 2010. You will have 2 weeks to e-mail us back with your home address so we can mail the prize. -