Brown Is Beautiful: Making The Switch To Brown Rice
Hey, we all want to be beautiful. How about trying some brown rice to aid your efforts?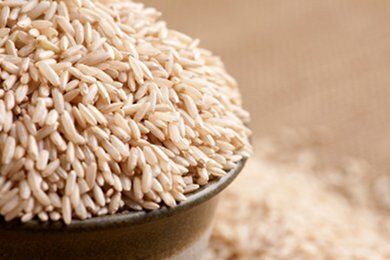 Why brown rice? It is a cheap way to add whole grain to your diet and a bunch of essential nutrients. It makes white rice look like candy!
The main difference between white rice and brown rice is the processing. When only the outermost layer of a grain of rice (the husk) is removed, brown rice is produced. To produce white rice the bran and germ layer are removed leaving mostly the starchy endosperm.
The processing that converts brown rice into white rice destroys 67% of the vitamin B3, 80% of the vitamin B1, 90% of the vitamin B6, half of the manganese, half of the phosphorus, 60% of the iron, and all of the dietary fiber and essential fatty acids. Fully milled and polished white rice is required to be "enriched" with vitamins B1, B3 and iron.
NO! You don't want to lose all those nutrients, do you? But, white rice is so easy to cook and eat (which is why we love it so).
Does brown rice taste like cardboard? It does take a little getting used to - but you might start to crave its nutty flavor. I add a little butter in the recipe for flavor as well. If you think you will hate it - try 1/2 brown rice and 1/2 white rice to start. Then, slowly, use just brown rice.
I NEVER cooked brown rice until I met my husband. He is great at cooking it in a pressure cooker.
My attempts at brown rice cooking have been...well...sad. I burn the pot, my rice comes out soggy (yuck), and many of my attempts have made it into the trash can instead of the waiting mouths of my family. So, I just let him make it.
BUT, I write this website and I am thinking that being dependent on someone else to make something so important is LAME.
I have tried a bunch of methods and now I am sharing with you my favorite. It was inspired by Alton Brown of The Food Network and it is so EASY that I can't mess it up. I am super busy so what I want is to cook a bunch of it and freeze the rest for a fast rice addition to any meal.
This recipe allows me to easily cook a ton - hardly any stirring, no watching the pot, no draining, etc. AND, the pot is super easy to clean (no burnt, caked on rice to scrub off!).
Eat it for breakfast mixed with raisins and nuts, add it to your packed lunch, or make a "rice salad" or "fried rice" with it. The only limit is your imagination.
Have you tried brown rice? Please share!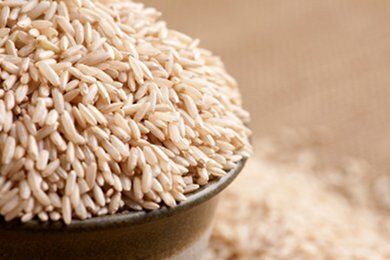 Easiest Brown Rice Recipe For A Crowd

(makes 6 cups of rice)

Ingredients
3 cups brown rice
5 cups water
2 tablespoons unsalted butter
1 teaspoon coarse salt (or 1/2 teaspoon fine salt)

Instructions
Preheat the oven to 375 F. Using a tea kettle or pot heat the water to boiling. Put rice into a casserole dish with a lid or use a baking dish that will hold it and use aluminum foil. Dot the butter into the rice and add the salt.
Add the boiling water, stir, and put in the oven for 1 hour. After 1 hour, remove the cover and fluff the rice with a fork.
Serve or put in containers for freezing and save for later use.
Nutrition Facts
For 1/2 cup: 143 calories, 4.6 g fat, 1.0 g saturated fat, 22.9 g carbohydrates, 0 g sugar, 2.3 g protein, 1.8 g fiber, 179 mg sodium, 4 Green, 4 Blue, 1 Purple WW SmartPts
Points values are calculated by Snack Girl and are provided for information only. See all Snack Girl Recipes
Other posts you might like:
---

If you could make your own healthy bread in five minutes a day would you do it? Could you find the time for such an enterprise?...
---

The comfort zone of American cuisine is meat, potatoes, and a wee bit of vegetables. When it comes to whole grains, we are sadly lacking....
---
---
Get Free Email Updates! Yes please!
---