Take Your Raw Veggies To the Next Level
Awwww, ma, raw veggies AGAIN! Yes, I know it is difficult but there is nothing healthier.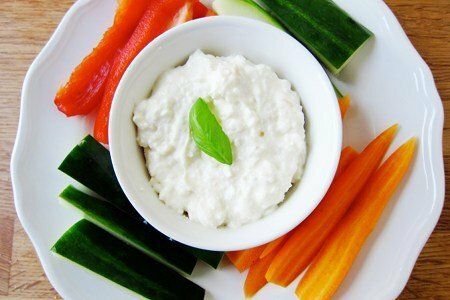 Why can't they taste like chocolate sundaes? :)
I don't know about you, but I find raw veggies to be a wee bit dull. I do eat them and I find the CRUNCH satisfying.
The problem is that my favorite dips are made with sour cream and onion soup mix. While totally delicious when consuming this classic combo - this is not the healthiest choice.
I was looking for a new creamy, salty, healthier choice when I came across a feta dip. This way you are getting the salty from feta cheese (instead of MSG in onion soup mix) and you get some protein as well.
Most of my recipes only have one step, but this one is a bit more complicated. I use roasted garlic in the dip because roasting mellows the sharpness of garlic, which so many people find a turn-off.
Roasted garlic lacks the bite of fresh garlic and (bonus) it is easier to peel. You just squish the garlic out of it's peel and voila - garlic! Roast the garlic when you are baking something else so you don't use a huge oven for a little garlic bulb.
This is a great dip to include in your lunch box with your veggies. You can store it in little plastic containers and just shove them in your lunch as you rush out the door.
My son LOVES this dip, and my daughter keeps asking for ranch. I can't get them to agree on anything when it comes to food.
Have you tried to roast garlic?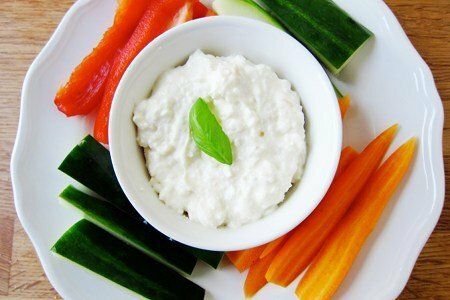 Simple Feta Dip Recipe

(makes 2 cups or 8 - ¼ cup servings)

Ingredients
1 small bulb garlic
1 teaspoon olive oil

1- 8 ounce block feta cheese
½ cup plain yogurt (whatever you have on hand)
juice of ½ lemon

Instructions
Preheat oven to 400 F. Slice the top off the garlic bulb and pour in olive oil. Close up bulb in aluminum foil and bake for 40 minutes or until soft.
When garlic is cool enough to handle, squeeze each clove out of its peel into a medium bowl. Mash garlic with a fork into a paste. Crumble in feta, add yogurt and lemon juice and stir.
Mix until desired creamy consistency (not unlike cottage cheese) and serve!
Nutrition Facts
For one serving (1/4 cup) = 91 calories, 6.8 g fat, 2.2 g carbohydrates, 2.2 g sugar, 4.9 g protein, 0 g fiber, 327 mg sodium, 2 Points+
Points values are calculated by Snack Girl and are provided for information only. See all Snack Girl Recipes
Other posts you might like:
---

Last week, I posted about grilling Romaine lettuce and a bunch of you asked for recipes for making your own salad dressing.
---

When someone shows up to your house with sour cream, French onion soup mix, and a bag of Ruffles - you know you are in heaven....
---
---
Get Free Email Updates! Yes please!
---