Easy Strawberry Shortcake Cupcakes
Before you freak out, these easy strawberry shortcake cupcakes are not your average cupcake.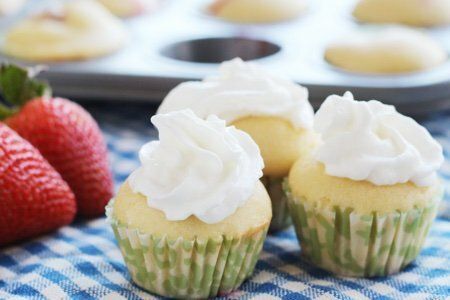 First, they are mini (portion size!). Second, they do not feature buttercream frosting and, third, they are half fruit.
Remain calm. I can't do real cupcakes on this blog and get away with it.
These ARE cupcakes but only in the sense that I used a cupcake pan to make them. I cut a conventional cupcake recipe in half and packed them with strawberries. But they are only 52 calories each (take that 350 calorie cupcake!).
Why are cupcakes mostly frosting? I wonder about these things late at night.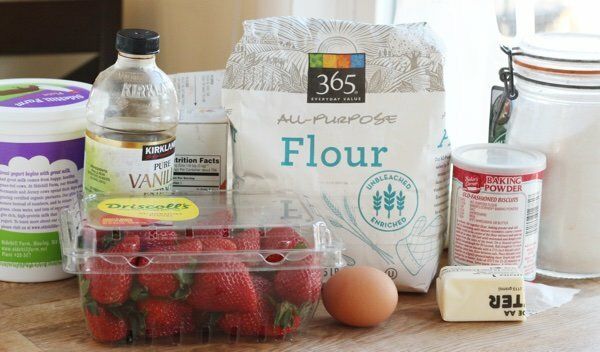 Every year, I attempt another healthy strawberry recipe. Why? Because I love strawberries and you can never have too many ways to eat them. One of my favorites is my stuffed strawberry recipe because it tastes like cheesecake (not kidding).
You should also try my DIY Strawberry Frozen Yogurt – so good!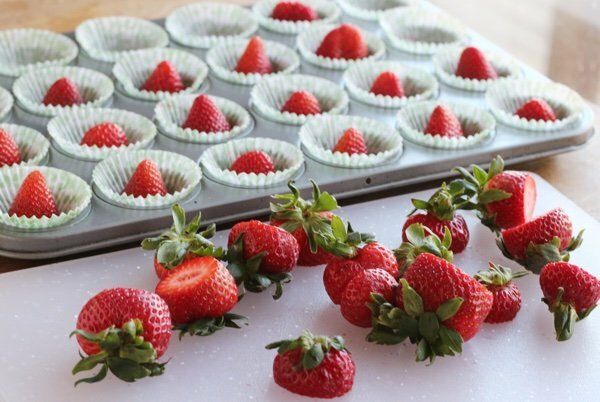 These will fill your heart with joy because they are small and satisfying at the same time. I love how you get a little bit of cake, a big bite of strawberry, and a little whipped cream – strawberry shortcake – but the serving is perfect.
I only use about ½ to 2/3 of the strawberry (depending on the size). Go ahead and snack on the left over bottoms. Yum!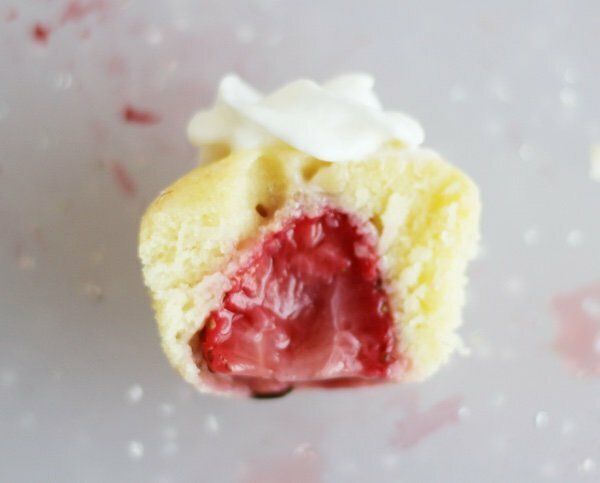 The strawberry cooks inside the cake to make it a little bit "jammy" – which is delicious.
Don't put the whipped cream on when they are hot or too far in advance of serving them. The cream will melt or soak into to the cupcake making them soggy (yuck).
I prepare the cupcakes in advance and right before it is time to eat them – hit it with the whipped cream.
What is your favorite way to serve strawberries?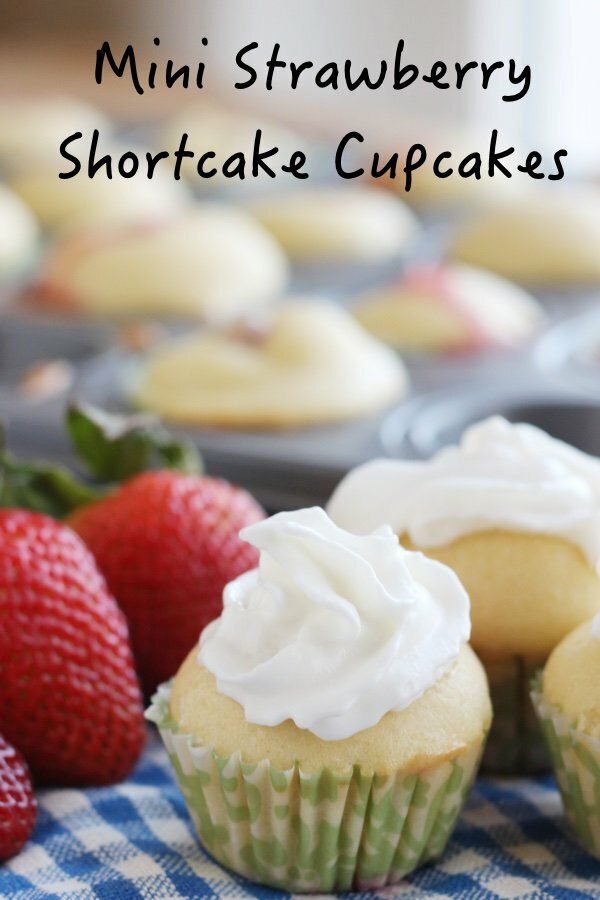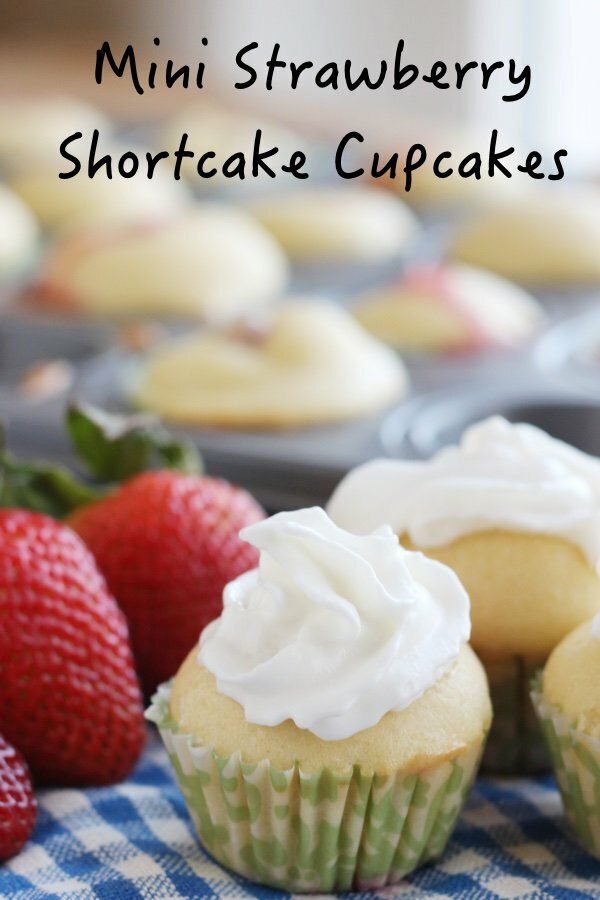 Easy Strawberry Shortcake Cupcakes

Makes 24 mini cupcakes

Ingredients
1 cup all purpose flour
¼ teaspoon baking powder
1/8 teaspoon baking soda
¼ teaspoon salt
12 medium strawberries
2 tablespoons unsalted butter, melted
½ cup sugar
1 egg
2/3 cup milk
2 tablespoons plain yogurt
1 teaspoon vanilla extract
whipped cream for frosting

Instructions
Heat oven to 350 F. Line a mini cupcake pan with cupcake liners. Mix flour, baking soda, baking powder, and salt in a small bowl. Slice off tips of strawberries and put them tip up in liners (use about half the strawberry or so).
Mix butter, sugar, egg, milk, and yogurt with a mixer or by hand until smooth. Add flour mixture in four portions and mix until fully incorporated. Pour mixture over strawberries until liner is almost full.
Bake for 11-14 minutes until a toothpick comes out clean from the batter section of the cupcake. Cool and serve with a dollop of whipped cream on top.
Nutrition Facts
For one mini cupcake = 52 calories, 1.4 g fat, 0.8 g saturated fat, 9.1 g carbohydrates, 4.9 g sugar, 1.1 g protein, 0 g fiber, 42 mg sodium, 2 SmartPoints
Points values are calculated by Snack Girl and are provided for information only. See all Snack Girl Recipes
---
Other posts you might like:
---

Simple and beautiful reign! We are into spring and strawberries are happening....
---

I am SO proud of myself. I made this beautiful bowl of strawberry frozen yogurt (and then I ate it)....
---
---
Get Free Email Updates! Yes please!
---