The Fast Cooking Bean For A Warm Salad
Do you think the words "warm" and "salad" work together? Well, they can if you use lentils.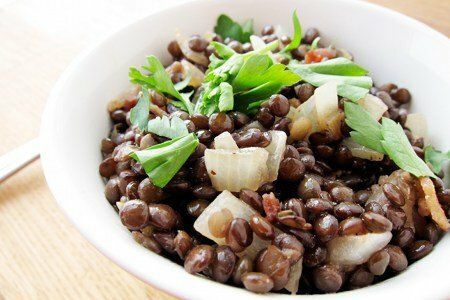 I love the idea of a warm lentil salad because it is cold outside and a REAL salad is a turn off. All I can think about is cheese, potatoes, and beer.
Lentils are not like other beans. Here are some little known facts:
You do not have to soak them.
They take only 20 minutes to cook.
Canada grows the most lentils in the world.
I know this because I went on a trip to meet Canadian lentil farmers in July. I gotta tell you, if you want to hang out with some super nice people, choose Canadian lentil farmers. Also they have a great website with many yummy lentil recipes: Canadian Lentils.
They gave me a bag of Beluga lentils, which I cannot find in stores near me which makes me sad. They have a great flavor and consistency and I did find them on Amazon.com (see below).
You don't need Beluga lentils to make this recipe work. Just buy a bag of green lentils usually found next to the other dried beans in your grocery store.
Why eat lentils? One half cup of cooked lentils gives you:
113 calories, 0.4 g fat, 0.1 g saturated fat, 19.4 g carbohydrates, 1.8 g sugar, 9.0 g protein, 7.8 g fiber, 38 mg sodium, 2 Points+
Look at all that fiber and protein! Wow! And lentils are inexpensive. A one pound bag cost me a mere 79 cents.
I used center cut bacon to flavor the lentils. Center cut has less fat than regular bacon and I think it tastes the same. The bacon also provides a satisfying crunch.
This salad will take you 20 minutes to make. You start your lentils and then work on the rest. By the time the lentils are finished cooking, you toss it all together for a warm healthy salad that will comfort you after a long day in the cold.
Have you made a warm lentil salad? Please share.
This product was received for review consideration. No other compensation was provided.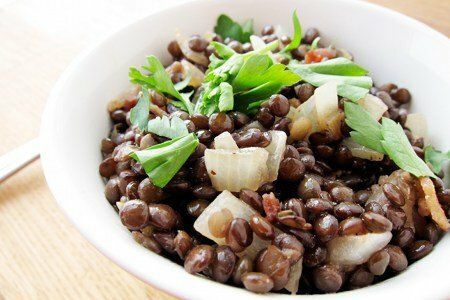 Warm Lentil Salad

Makes 6 servings, ¾ cup for a serving

Ingredients
1 cup lentils
3 cups water
3 strips center cut bacon
1 onion, chopped
parsley (optional for garnish)

For dressing:
2 tablespoons olive oil
1 tablespoon wine vinegar
1 teaspoon Dijon mustard
salt and pepper to taste

Instructions
Heat lentils and water in a saucepan until boiling. Reduce heat to a simmer and cook for 20 minutes or until lentils are tender. Drain lentils and put back into saucepan.
In a frying pan, cook bacon until crispy over medium heat. Drain bacon on paper towel and pour most of the fat out of the pan. Chop bacon. Add onions and cook until browned.
When lentils are done and in warm saucepan add bacon, onion, and dressing ingredients. Be sure to add lots of salt and pepper. Serve with a parsley garnish if so inclined. Enjoy!
Nutrition Facts
173 calories, 5.8 g fat, 1.0 g saturated fat, 24.1 g carbohydrates, 1.6 g sugar, 9.7 g protein, 10.3 g fiber, 94 mg sodium, 4 Points+
Points values are calculated by Snack Girl and are provided for information only. See all Snack Girl Recipes
---
currently unavailable Buy on Amazon.com
As an Amazon Associate, I earn from qualifying purchases.
---
Other posts you might like:
---

Have I confused you with the photo of the chocolate cake? Where are the seeds?...
---

Snack Girl has been looking for a packaged veggie burger to endorse as a great snack. And, she hasn't found one :(...
---
---
Get Free Email Updates! Yes please!
---