A Great Tool For Getting Portion Sizes Under Control (Giveaway)
Back in December, I reviewed a fun plate that kids can use to help understand portions (see here: portion size plates. What about adults?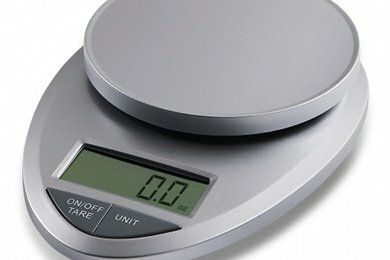 How about a less fun but incredibly helpful scale? As we move away from eating out and start cooking for ourselves, we need a way to size up our foods to determine how much we are eating.
How do you make it work for you? Well, let's say you want to have some cheese and crackers. Your crackers are packaged so you know they are about 20 calories each and then you look at your cheese. Unless it is pre-portioned, you have to guess how much a one ounce portion will be.
So, you cut off a slice and hope that you got it right. Cheese is a fairly high calorie food as is red meat, bacon, and cooked pasta. How much did you really eat? If you have a scale, then you know the EXACT amount.
The scale takes the guess work out of portion size and it TEACHES you over time to estimate how much you are eating. Some of us need this tool to get our eating under control.
If you snuck a scale into a restaurant, I bet you would be shocked at the portion sizes. I wonder what would happen if you started measuring your entree at Chili's?
This scale, the "EatSmart Precision Pro", is super easy to use. I've only had it a couple of weeks but on Amazon.com there are over 2000 positive reviews. It comes with a booklet that will help you calculate the number of calories in your measured serving of food.
I also use it for recipes when it calls for "one pound of potatoes". I just put a bowl on the scale, hit TARE, and then load it up. It has ounces, grams, pounds, and kilograms.
This is a great tool for making your own 100 calorie snack packs. Don't buy the prepackaged ones - use a scale!
EatSmart Products is giving away one EatSmart Precision Pro Kitchen Scale ($25 value) to a lucky reader. Comment below on how you control portion size to enter.
Please check out EatSmart on Facebook and Twitter.
This product was received for review consideration. No other compensation was provided.
---
$29.99 Buy on Amazon.com
As an Amazon Associate I earn from qualifying purchases.
---
What will I win?
An EatSmart Precision Pro Kitchen Scale ($25.00 retail value).
How do I enter?
Comment below on how you control portion size.
Additional Ways To Enter:

Follow Snack-Girl on FaceBook. Comment on the FB page on how you control portion size.

Follow Snack-Girl on Twitter and Tweet this post (use the Tweet Button in the Share Box at the top of this post).

Snack-Girl can follow and count all the additional entries using magical website tools.
Am I eligible to enter?
This giveaway is offered to US residents only.
When do I find out if I am the winner?
The randomly chosen winner will be announced on February 9th, 2012. You will have 2 weeks to e-mail us back with your home address so we can mail the prize.