Start Your Day With a Powerhouse of Nutrition
I fell in love with avocadoes on a trip to Mexico in 1985.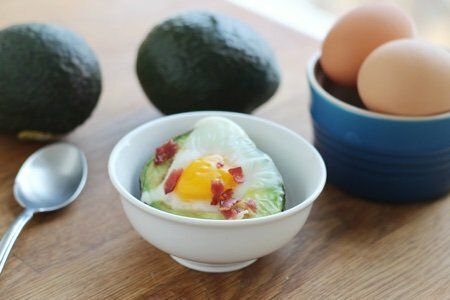 Since that trip, we have had a great relationship but my avocado consumption is still a bit biased toward guacamole.
Not any more!
Take a gander at this lovely breakfast idea. Pop your egg into an avocado and bake and you have a luxurious fresh avocado breakfast to start your day. Or, you can pack it up and take it for lunch – slowly spooning it into your mouth while your coworkers silently hate you.
This breakfast is packed with nutrients. Avocados have over 20 nutrients in them and eggs are known as a nutrient powerhouse (remember the yolk is for growing a chick).
You don't need your multivitamin if you eat this type of breakfast.
Some of you will complain that this recipe is filled with fat. Yes, but this is plant fat – not animal fat – and it is going to satisfy you. Try this instead of other heavy egg recipes such as Eggs Benedict or a cheese stuffed omelet.
Here is a bunch of other wonderful avocado recipes if you also want to move beyond guacamole : Hass Avocado Recipes
For you calorie watchers out there, I am assuming you will eat about 4 ounces of avocado (50 calories per ounce) – which is 200 calories. The best way to determine how many calories you are eating is to weigh the avocado (without the pit).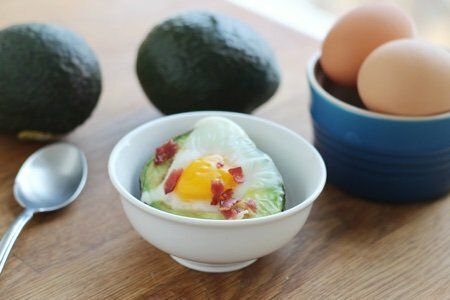 Egg in Avocado Recipe
Makes 2 servings
Ingredients
1 small ripe avocado
2 medium or large eggs
1 sliced cooked bacon, optional
Instructions
Preheat oven to 425 F. Slice avocado in half and remove pit. Spoon out avocado to make a hole for the egg to rest in. Spread the extra on toast or into your mouth.
Place avocado halves in muffin tins and carefully crack eggs into them. Cook for 15 minutes for a soft yolk or about 18 minutes for a hard one.
Sprinkle bacon on top and eat warm.
Nutrition Facts
One serving without bacon is 277 calories, 24.6 g fat, 5.7 g saturated fat, 9.0 g carbohydrates, 0.9 g sugar, 8.2 g protein, 6.7 g fiber, 76 mg sodium, 8 Points+
Points values are calculated by Snack Girl and are provided for information only. See all Snack Girl Recipes
Other posts you might like:
---

Guess what I didn't use on my toast this morning?....
---

Egg season is approaching and, frankly, I LOVE deviled eggs. Most deviled egg recipes feature mayonnaise as a primary ingredient.
---
---
Get Free Email Updates! Yes please!
---