Healthy Breakfast In A Flash With Eggland's Best
October 6, 2013
Snack Girl is famously picky about her eggs. She does not compromise on quality.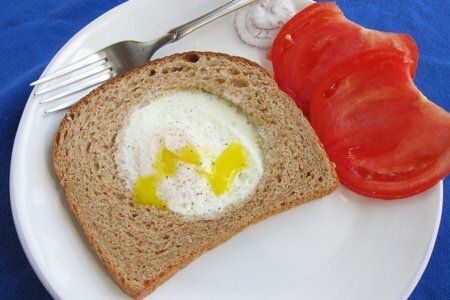 Actually, the truth is that one day I bought inexpensive no-name eggs because I was in a hurry and my favorite local brand was missing. Wow! I was in for a surprise. These eggs were terrible. They were so bad, in fact, that I couldn't eat them – they smelled, their shells were brittle and their yolk was a weird light yellow color. Yuck!
I learned that there are two important factors in great eggs:
What the chickens are fed
How long the eggs have been sitting in the supermarket
Eggland's Best eggs are produced at local farms throughout the United States and are delivered to the stores within 72 hours of laying.
Their hens are fed an all-natural, all-vegetarian diet of healthy grains, canola oil, and an all-natural supplement of rice bran, alfalfa, sea kelp and Vitamin E. Their feed contains no added hormones, antibiotics or steroids, and no animal by-products, recycled or processed foods.
These eggs are fresh and taste delicious. Because their feed is high quality the eggs they produce have 25% less saturated fat, double the omega-3 fatty acids, and 10 times more Vitamin E than ordinary supermarket eggs.
My standard breakfast is one or two "eggs in a hole". I like it because it is fast and I get my egg and toast in one quick meal (I don't have to use my toaster). The egg yolk tastes so good soaked up by the bread.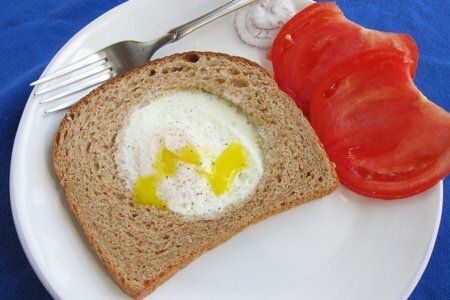 Egg in A Hole Recipe
makes 1
Ingredients
1 slice 100% Whole Wheat Bread
1 large Eggland's Best egg
non-stick spray
salt and pepper to taste
optional: slices of tomato, avocado, cheese, ham, salsa, ketchup, etc.
Instructions
Preheat a non-stick pan to medium high. Cut the bread with a round cookie cutter or a cup or glass to make a circle in the center. Spray the pan with non-stick spray.
When the pan is heated, place the bread in the pan and crack the egg in the hole in the center. Cook for 3 minutes. Flip over and cook for another 2 minutes for a soft egg center.
Serve plain or with optional fixings.
Nutrition Facts
Without fixings: 120 calories, 4.8 g fat, 10 g carbohydrates, 1.5 g sugar, 8.5 g protein, 2.0 g fiber, 118 mg sodium, 3 Points+
Points values are calculated by Snack Girl and are provided for information only. See all Snack Girl Recipes
This is a sponsored conversation written by me on behalf of Eggland's Best. The opinions and text are all mine.
---
Sponsored by