How To Celebrate Without Guilt
A friend of mine told me to write about my visit to a fancy-shmancy restaurant. This is a shot of the lovely table setting at Eleven Madison Park in New York City.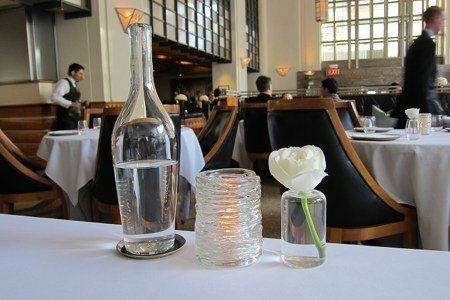 I took the photo as I was admiring the beautiful room. The pitcher on the left is our water pitcher. Isn't in amazing how they meshed the practical with the accents?
My husband and I were celebrating our 10th wedding anniversary and we picked this restaurant for the food. Before I go any further, this is not a review of Eleven Madison Park. Snack Girl doesn't have the foodie chops to pull that off.
I do want to thank the staff and chefs for an unforgettable experience and meal. I hope (some day) to return.
What I want to talk about is how wonderful it is to forget about guilt, calories, points, and just celebrate with food. Let go and just give in to its wonderful textures, flavors, smells, and nuances.
Here is an example of what I am talking about. When I go out to dinner on a regular night, when the bread basket arrives, I ask for it to be returned to the kitchen (unless I am really hungry).
Here is the bread offering from Eleven Madison Park: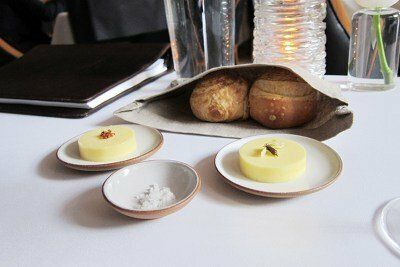 I believe the butter on the left was made from duck fat. Hello! Do you think I asked them to remove the perfectly warmed buns and butter from the table? In fact, I was enjoying my bread SO MUCH that I yelled at my dear husband of 10 years when he tried to steal a bite from my plate. oh no you don't!
Why do I love eating at a fancy restaurant?
1. They make you feel like royalty.
2. You don't have to cook or do the dishes!
3. Cloth napkins ('nough said).
4. You get the pleasure of experiencing someone else's skill with food.

Every day, I write about eating healthy and I include calorie amounts for all you counters out there. I am aware of how much fat is in duck fat butter, but I didn't care! This was about pleasure and love.
Food can be so many things and in this case - it was pure joy. While you work on your healthy journey, please don't forget the joy.
When do you let go of fear and guilt and simply enjoy food?
---
Other posts you might like:
---

Snack Girl has a problem with "Restaurant Survival Guides". Ummm, when did a trip to a restaurant become a trial?....
---

Okay, we are a little over a week into the New Year. Have you spread paint on your kids yet?...
---