Quick and Healthy Pizza
Is it necessary to add 3/4 of a pound of cheese to a pizza to have it be delicious? Do you need a cheese stuffed crust to have a great eating experience? I don't think so.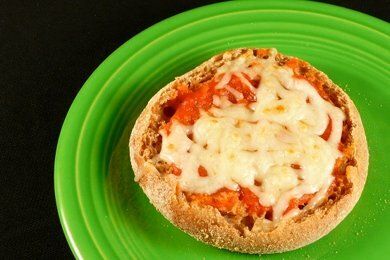 I do think that the taste of pizza is fantastic. The crunch of the crust, the tang of the sauce, and the softness of the cheese make it a very satisfying food. Why else would there be pizza joints every where you look?
But, as with any fast food, if you let someone else cook if for you (such as Pizza Hut, Dominos, or Uno's), they are going to kill you on calories. And, once you have it in front of you, just try to stop at one slice.
So, what do you do? Make your own! Here is a really simple suggestion to satisfy a pizza craving and it is an excellent snack size serving. Of course, you can also make your own crust, etc., and I will cover that in another post, but for now you need:
whole wheat English muffins
pizza sauce
low-fat mozzarella shredded cheese
The English muffin you purchase should be whole wheat, because we are aiming for a healthy snack. Whole wheat bread has many more nutrients than white.
The pizza sauce can be any tomato based sauce, but it should NOT include cheese. Check the label - so many pasta sauces on the market now include a form of cheese. The problem, again, is the added calories, which almost none of us need.
Split the muffin, spread some sauce, and use 1/8 cup of cheese (that is one-half of 1/4 cup) and you got a 100 calorie snack. Put it in a toaster-oven or under the broiler for a few minutes and you are done. (Do not use the microwave - it will turn out yucky).
How did we get to 100 calories? 50 for the English muffin, 10 for the sauce, and 40 calories for the cheese
And now you have a chance to add some Pineapple or other fruit or vegetable to make it even more healthy!
Finally, kids love this for an after-school snack. They can make it themselves, which is always a bonus.
For 1/2 ounce fresh mozzarella, 1/2 English muffin, and 2 tablespoons pizza sauce:
125 calories, 3.5 g fat, 16.6 g carbohydrates, 6.7 g protein, 1.5 g fiber, 311 mg sodium, 3 Points+
Want more like this?
Chocolate Chip Cookies
DIY Microwave Popcorn: Healthy, Yummy, and CHEAP
Homemade Banana Bread