Homemade Banana Bread
Is this really a healthy snack? Eating too much of any baked good is damaging to your waistline, but made with real Bananas and eggs, this snack includes protein and vitamins your body needs.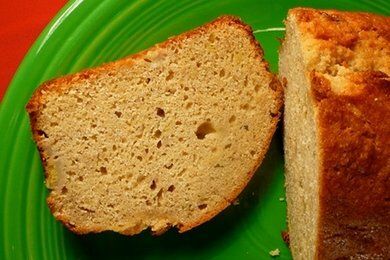 Using your oven can be a transporting experience. First, you have to make sure that it still works. Then, after some planning and some grocery shopping, you can preheat it for your banana bread. After you place your loaf in the oven, this amazing smell wafts through your home. Ahhhhh.
But, you say, I don't have time for this! Decide to make baking a priority. Half the battle is just having the ingredients on hand. Buy yourself some salt, baking powder, sugar, baking soda, vanilla, and flour and you will always be prepared when you have overripe bananas around the house.
What should you do if you have an overripe banana and no time to make banana bread? Just place the banana in the freezer and take it out when you are ready to make the bread. This way instead of just tossing that banana in the trash, you can turn it into a delightful snack.
Keep in mind that anything that you make for yourself will be far more nutritious and have many less calories than if you buy it. For example, a slice of Starbucks Banana Nut Bread is 410 calories and includes ingredients such as high fructose corn syrup.
Your banana bread will have butter, eggs, refined sugar, and a mix of white and whole wheat flour. It is a very nutritious snack.
If you start to love home baking - check out this book. It is so inspiring with lots of photos to motivate you to bake your own goodies.
$94.78 Buy on Amazon.com
As an Amazon Associate I earn from qualifying purchases.
---
Banana Bread Recipe
1 cup white flour
1 cup whole wheat flour
1 teaspoon salt
1 1/2 teaspoons baking powder
3/4 cup sugar
3 very ripe bananas mashed until smooth
2 eggs
1 stick butter (8 tablespoons)
1 teaspoon vanilla
Preheat over to 350 F. Use some butter to grease a loaf pan. Mix together the dry ingredients and soften the butter in the microwave. Mix bananas, eggs, butter, and vanilla into the dry ingredients just until cohesive (do not over mix). Bake for 45-60 minutes until browned. Use the toothpick or fork method - insert toothpick in center of bread and it should come out mostly clean when done.
---
Want more like this?
Energy Bar Recipe
Chocolate Chip Cookies
America's favorite fruit