Want To Exercise Without Noticing?
Snack Girl has a little problem with couches. She can't stay away from them.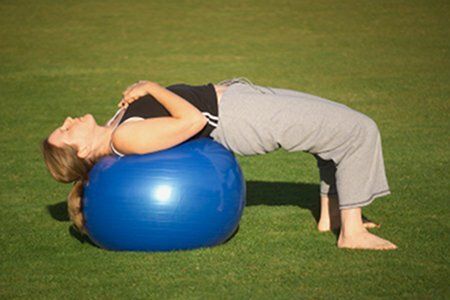 Yes, if there is a comfortable couch in a 100 yard radius, I will find it and sit on it for as long as possible. Something about sitting there, reading, ordering people around, and munching on popcorn is very compelling. I would never leave my couch if I didn't have to.
I know this is not the lifestyle that I am advocating here on Snack Girl. I want YOU to get moving and so I am always looking for ways to get moving myself. I do feel better if I don't sit there all day like a lump.
A couple of years ago, I took a Pilates class and fell in love with this ball. It is fun to sit and bounce on and toss at unsuspecting people as they walk by you. In class, I loved laying my back on it and pointing my belly at the ceiling...aaaaaahhhh.
Since my favorite TV shows are in February (the Super Bowl and the Oscars), I decided to plunk down $20 for one of these at my local Target. I plan to sit on the ball for a while, watching TV, munching popcorn, and bouncing. Why?
Sitting on the ball is fun and it is much more active than sitting on the couch like a lump. I am working on my core (how cool am I?) while watching Hollywood starlets walk the red carpet. Boing Boing.
The only sad part of owning this ball so far is that whenever I want to sit on it, my son runs over and pushes me off. He thinks this is so funny! Mom, lying on the floor, asking for her ball back. Ahh well.
The idea here is to get moving, even if it is just a little bit, versus spending time sedentary. Research studies continue to show that a sedentary lifestyle leads to a shorter life.
Another idea regarding not noticing exercise is to get a Zamzee and measure how much you move. Zamzee is a meter and a website focussed on kids and helping them to get get moving. It is more fun than a pedometer because it tracks all of your movements (not just steps) and you can earn rewards when you hit certain levels of exercise.
I gave Zamzee a try because I was looking for an inexpensive way to track my activity. It is only $30 and easy to use because it is geared toward children (which I liked because I was worried I would break anything more expensive). You clip it on your belt or put it in your pocket and then you can plug it into your computer and upload your activity to their website.
I thought it was a super fun way to get an idea of how active you are during all times of day, even when you are just bouncing in front of the TV.
How do you turn your sedentary activities into more active ones?
This product was received for review consideration. No other compensation was provided.
---
$24.99 Buy on Amazon.com
As an Amazon Associate I earn from qualifying purchases.
---
Other posts you might like:
---

Obviously, the women above got great bodies by going to the gym. Look at how fit they look!...
---

Does it sound like I am trying to sell you a bridge? Or maybe Snack Girl has become one of those websites that PROMISES you will lose 5 pounds in 24 hours, if you just buy this potion....
---