Trader Joe's Ezekiel Bread: Nutrition
It is hard not to like a bread that is inspired by a book since I love to read.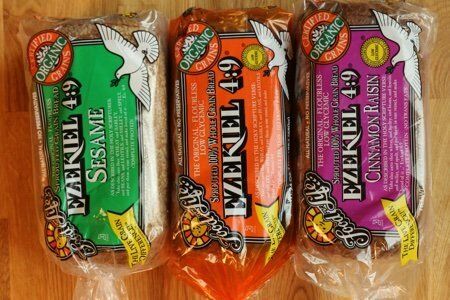 Which book? It isn't a cookbook or a romance novel.
Ezekiel is acknowledged as a Hebrew prophet and he included a recipe for bread in his "Book of Ezekiel" in the Bible (a bestseller). This is the quote from the front of the label:
"Take also unto thee WHEAT and BARLEY, and BEANS, and LENTILS, and MILLET, and SPELT, and put them in one vessel, and make bread of it..." Ez. 4:9
I wrote an Ezekiel bread review in 2012 and not much has changed. It is amazing bread! You can find this Trader Joe's Ezekiel bread in other stores if you look - sometimes it is in the freezer.
I have also written a Dave's Killer Bread review and I must say I like Ezekiel's more because of the smaller slice of bread. One slice of Dave's is 120 calories and I would rather have an 80 calorie slices (especially when making a sandwich).
Ingredients in Ezekiel Sprouted 100% Whole Grain Bread:
Organic Sprouted Wheat, Filtered Water, Organic Sprouted Barley, Organic Sprouted Millet, Organic Malted Barley, Organic Sprouted Lentils, Organic Sprouted Soybeans, Organic Sprouted Spelt, Fresh Yeast, Organic Wheat Gluten, Sea Salt.
Doesn't that sound like an amazing bread? lentils - wow!
Nutrition information for one slice:
80 calories, 0.5 g fat, 0.0 g saturated fat, 15.0 g carbohydrates, 0 g sugar, 4.0 g protein, 3.0 g fiber, 75 mg sodium, 2 Freestyle SmartPts
Check out this slice: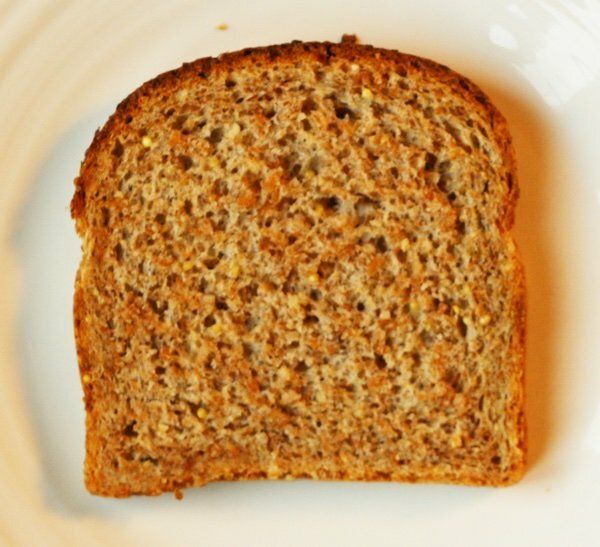 As you can see, it looks like there are little nuts in the bread. Those are the sprouted grains. Instead of milled flour that is ground up, Food For Life sprouts the wheat berries to use them in the bread. The result is incredibly nutritious (and less processed).
It does take some getting used to if you eat regular wheat bread. The consistency is a multigrain but with even more chewy areas.
I love the cinnamon raisin as it has only 5 grams of sugar per slice (all from the raisins) and tastes like I am having a treat. You really don't need added sugar in a slice of raisin bread since raisins are so sweet.
I eat my Ezekiel bread spread with peanut butter, avocado, or in a tuna sandwich – yum! The sesame flavor is excellent as well.
Where to buy Ezekiel Bread? I found mine at Trader Joe's. Use Ezekiel bread's Store Locator to find a location near you. It costs about $4.50 for a 1 ½ pound loaf. I store mine in the freezer because it contains no preservatives and will mold quickly.
Other posts you might like:
---

I am always looking for a loaf of bread that I can recommend without a doubt. Ezekiel bread is one of those breads....
---

America's favorite organic sliced bread – Dave's Killer bread - is sort of amazing.....
---