The Best Packaged Bread You Can Buy
I am always looking for a loaf of bread that I can recommend without a doubt. Ezekiel bread is one of those breads.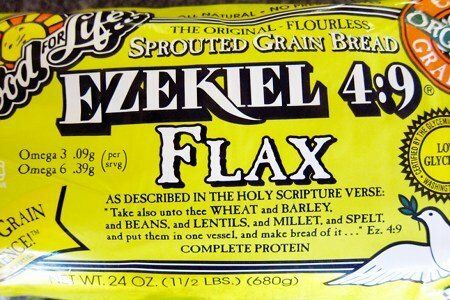 I have analyzed the nutrients and tasted Alvarado Street Bakery and Dave's Killer Bread.
How do I do it? Here is some advice:
Tip #1: Ignore everything on the front of the package. Okay, this package of bread is called "Ezekiel". Ezekiel is acknowledged as a Hebrew prophet and he included a recipe for bread in his Book of Ezekiel (see Wikipedia). This is the quote from the front of the label:
"Take also unto thee WHEAT and BARLEY, and BEANS, and LENTILS, and MILLET, and SPELT, and put them in one vessel, and make bread of it..." Ez. 4:9
Whether you love the bible reference or you are repelled by it, the nutritional information on this bread is in the nutrition facts on the back of the package.
Tip #2: Look at the FIRST ingredient in the ingredients list. Here you would expect that ingredient to be wheat.

Yea! It is "organic sprouted wheat" which is when you take whole wheat berries and germinate them. You just add water and let them grow a little bit then you use them in a recipe. Sprouted grains are supposed to make the starches in grains easier to digest.
The real question here - "Is it whole wheat?" and the answer is yes!
Tip #3: Check out the grams of sugar. Yes, there are companies that add sugar to bread and even sucralose. For bread, I would also check the grams of fiber and try to buy bread with more than 4 grams per serving.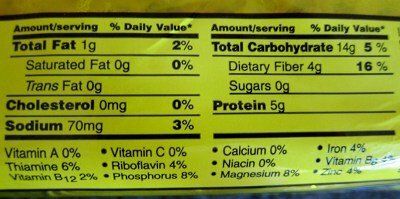 Hallelujah, amen! There are ZERO grams of sugar in this bread. Do you know how hard it is to find a bread without added sugar?!!
And the fiber is four grams, and you have 5 g of protein and all sorts of good stuff. The sodium is low - this is great bread from a nutritional standpoint.
How does it taste? I don't know because my husband ate it all :) I managed to snatch a few bites from his hands and I think it is delicious.
To find it check out Ezekiel's Store Locator. It does tend to be at Whole Foods or health food stores so you might have to make a special trip. I like to store healthy bread in my freezer so I don't have to worry about paying $4 for a loaf that turns green if I don't eat it fast enough.
For one slice: 80 calories, 1 g fat, 21.8 g carbohydrates, 0 g sugar, 5 g protein, 4 g fiber, 70 mg sodium, 2 SmartPoints
Have you tried Ezekiel bread? What do you think of it? What other breads have you found that are healthy? Please share.
This product was received for review consideration. No other compensation was provided.
---
Other posts you might like:
---

America's favorite organic sliced bread – Dave's Killer bread - is sort of amazing.....
---

Alvarado St. Bakery makes sprouted bread and you can find it all over the country....
---