Watch Out For This Faux Food At The Grocery Store
Snack Girl leaves the black and white photography for the very worst food she finds. Did it make her sad to find "guacamole" in this category?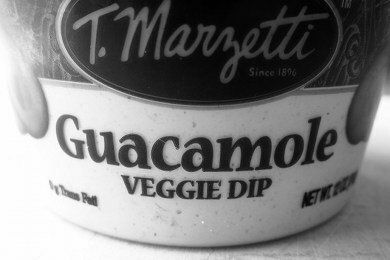 Why, yes it did! I don't like buying something that I think is a healthy choice as I run through the supermarket with my children demanding my attention.
As you can probably guess, I am a notorious label reader and have lost my young son because I was too focused on reading. (I found him in the freezer section next to the ice cream.)
I grabbed this packaged without looking as I was short on time. It had photos of avocados on the side so I thought I was buying some guacamole but if I had read carefully - I would have seen this is "Guacamole Veggie Dip".
Here are the ingredients:

SOYBEAN OIL, SOUR CREAM (CREAM, MODIFIED CORN STARCH, GELATIN, LACTIC ACID, GUAR GUM, MONO AND DIGLYCERIDES, SODIUM BENZOATE AND POTASSIUM SORBATE ADDED AS PRESERVATIVES, DISODIUM PHOSPHATE, CITRIC ACID, ARTIFICIAL FLAVOR), GREEN CHILI PEPPERS, WATER, TOMATOES AND TOMATO JUICE, AVOCADO, EGG YOLK, DISTILLED VINEGAR, SUGAR, SALT, ONION*, SPICES, TOMATO*, MODIFIED CORN STARCH, MONOSODIUM GLUTAMATE, XANTHAN GUM, MUSTARD SEED, CARAMEL COLOR, CITRIC ACID, NATURAL FLAVORS, GARLIC*, YELLOW #5, CALCIUM DISODIUM EDTA ADDED TO PROTECT FLAVOR, BLUE #1. *DEHYDRATED
Ahem.....soybean oil? How can you put a photo of an avocado on the side of package and have it be the SIXTH ingredient. I had the same problem with some popsicles see: Don't Be Fooled By This Popsicle Marketing Trick.
This is actually dip - a mayonnaise, cream, salt flavored mix with some avocado added. Do I feel stupid for paying my $3.99 for this stuff? Yes!
Not only does this lack the avocado that I wanted - but it includes monosodium glutamate and artificial colors. They mix in YELLOW #5 and BLUE #1 to get GREEN #6 (just doing some addition here).
There must not be enough avocado in this dip to make it green enough to fool an unsuspecting mother on the run.
I am not a fan of government regulation - but I do think there should be a rule that food manufacturers should not be allowed to put a photo of a food on the outside of the package UNLESS IT IS THE FIRST INGREDIENT.
Food companies should just willingly follow this rule because they don't want to deceive consumers, right? If this is veggie dip with a wee bit of avocado added - then you shouldn't be able to use an avocado on your package. I'm just sayin'.
Have you been fooled by similar packaging?
---
Other posts you might like:
---

Snack Girl has a bone to pick with Edy's Fruit Bars and every other frozen popsicle manufacturer who uses the word "fruit".
---

Snack Girl doesn't watch much television because she hates commercials. She does watch The Daily Show online for her nightly laughter meditation.....
---