Don't Be Fooled By This Popsicle Marketing Trick
Snack Girl has a bone to pick with Edy's Fruit Bars and every other frozen popsicle manufacturer who uses the word "fruit".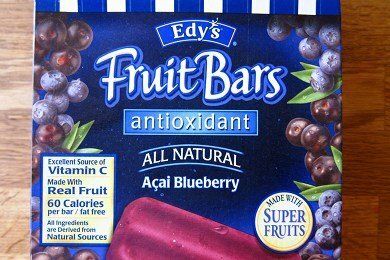 I purchased these popsicles thinking that they were essentially the same as my homemade popsicles only to look at the ingredients list when I got home.
No, I can't spend ALL DAY in the supermarket reading labels. I am super busy!
Here is the list of ingredients: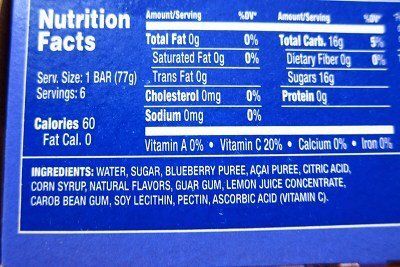 The front of the box says "Made With Super Fruits" referring to Acai and Blueberry in the popsicle. I interpreted that statement to mean that there was no added sugar in these popsicles.
Since these are FRUIT bars and not just "sugar water" popsicles such as other brands, I assumed that they were made solely with fruit - like the ones I make at home.
and I paid about 50% more for this product than the store brand that just looked like colored, sugared water.
You see, you don't actually have to add anything to apple juice to make a great frozen treat. It just works.
Ummm, the second ingredient above is SUGAR. That means that the fruit ingredients are not contributing their natural sugar to the product as much as just plain old sugar.
These are really SUGAR BARS with added fruit. I guess that "Sugar Bars with added fruit" doesn't move many products off the shelves so the marketers here just played on our busy lifestyles and fed us this lie so that we would buy them.
Yes, I am calling the product name "Fruit Bars" a lie. Just because it has a little fruit in it does not make it a Fruit Bar!
And, then, of course there is also "corn syrup" added to this product. So, sugar and the fruit concentrates weren't enough to make these sweet - they had to add corn syrup as well.
The entire package sings the word "healthy" and I was completely fooled by it. I'm supposed to be the expert. sheeesh.
Please share your thoughts on Edy's Fruit Bars.
---
Want to read about snacks?
Simple and Healthy Cooking From Top Chefs
Z Fries: The Latest In Nutritious, Delicious, and Low Cal Fries
I Can't Believe You Don't Eat Butter!
Sweet Corn Is A Stellar Snack