Reclaim Your Sex Life
Why is this woman feeling so relaxed and looking so gorgeous? The secret, my friends, is simple.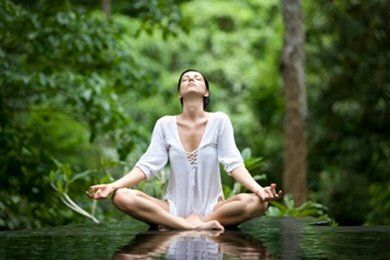 (no, she didn't just eat a Denny's Maple Bacon Sundae)
The secret is yoga and sex.
Now, before I go further, I want to say that this is not the usual Snack Girl territory. But, I felt I should write at least once on this topic.
Sex can be one of life's most fulfilling experiences. It is great exercise, calorie free, relaxing, and downright brilliant as long as it is ENJOYABLE.
(and it frequently isn't)
Why? Because, women in this country (USA) have lost their mojo. 26% of American women report a lack of sexual desire. ONE out of FOUR women are not in the mood.
So, I was reading my favorite scientific journal, The Journal of Sexual Medicine, and I found an article on yoga and female sexual functions (2009, Dhikav et. al.).
The first line:
"The topic of female sexuality has long been reduced to a low-priority research field."
Good point, Dr Vikas Dhikav! Where has all the sexual research money gone? I think we know the answer - to men. Yes, men, have a pill for sexual dysfunction. Women? (cue crickets)
No worries, because these researchers have done an excellent study on the effect of yoga on sex. Guess what ladies? We don't need pills!
The researchers surveyed 40 sexually active women between the ages of 22-55 years old before they went to yoga camp and then again after they finished yoga camp.
And, guess what? Twenty nine of the forty (72%) expressed an improvement in sexual satisfaction. ALL of the parameters measured: desire, arousal, lubrication, orgasm, satisfaction, emotional closeness, and pain (less of it) were improved.
The women in the study did one of hour of yoga per day for 12 weeks and good things happened like they got more flexible, built up their Kegels, reduced their stress levels, and got in touch with their bodies.
If you know about yoga, then you know there are various poses that you use as you move through your practice. The ones for the study were standard - child's pose, boat pose, cobra, mountain, etc. Nothing TOO crazy here.
How do you get yourself some yoga?
Right now, you are thinking when am I going to get an hour a day for yoga? Or you might be thinking, how am I going to afford yoga classes? (probably a lot less expensive than Viagra)
My suggestion is to find a yoga studio that you like and go try it out. But, if you don't have time, give yogaglo a try.
Yogaglo is FREE for the first 15 days so there is little risk - and you get unlimited streamed yoga classes to your computer. They have FIVE minute classes to start - don't tell me you don't have five free minutes!
After the 15 days, it costs $18 per month. You can be in any sort of shape to start. To get results, you will have to practice.
Also, there are plenty of yoga DVD's, applications, and books to help you find your mojo!
What do you think of using yoga to improve your sex life?
Snack Girl is an advocate for safe and responsible sex.
Want to read about snacks?
Makeover Kettle Corn Into "Can Do" Corn
A Cookie Without Dairy or Egg (It is STILL Delicious!)
Denny's Maple Bacon Sundae
Satan Would Hate This Recipe