Makeover Kettle Corn Into "Can Do" Corn
Kettle corn has that perfect combination of crunchy, salty, and sweet that keeps you eating it long after you should stop.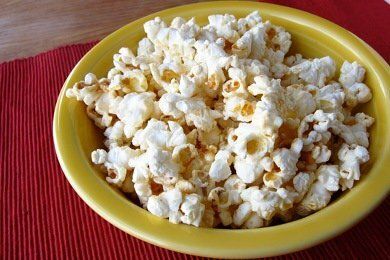 I received an e-mail from a reader about kettle corn.
From Stacia:
I really like kettle corn microwave popcorn. It's just not the same adding the flavoring after the corn is popped, as you have to add more and it's not as evenly distributed. Anyone have ideas about how to make homemade kettle corn in the microwave without a lot of mess?
Thanks, Stacia! I had been thinking of making my own kettle corn because I saw a PRETTY scary bucket of microwave kettle corn in the aisle at BlockBuster.
This brand, which shall remain nameless (Jolly Time), had 4 grams of Trans Fat stated in its Nutrition Facts. Ummm, did you get the memo?
Also, it included sucralose AND sugar. Why not just add enough sugar to make it sweet? I guess they were trying to keep the calories low.
So, I didn't come up with a way to make it completely in the microwave, but I did come up with a tasty version which is sweet, made with natural ingredients (no sucralose here!) and only 80 calories per serving.
I added Which Peanut Butter is Healthiest? and Maple Syrup to the freshly popped Homemade Microwave Popcorn AFTER it was popped. The result is dreamy and my kids went bezerk.
It is a bit messy (you have to mix it with your hands), but the result is worth the work. You can get it evenly distributed if you melt the maple syrup and peanut butter together - trust me.
I used a microwave popcorn bowl that a reader suggested (see below). You just dump 1/4 cup of unpopped corn in the bowl, turn the microwave on for 2.5 minutes, and you have freshly popped popcorn without using any oil.
This is a bit easier than using the paper bags that I suggest in Homemade Microwave Popcorn.
Homemade kettle corn is a great party snack, watching football snack, or after school snack.
Give it a try and tell me how it goes!
Do you have any ideas for homemade kettle corn?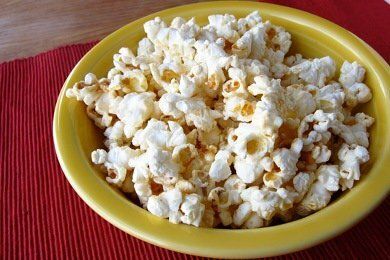 Homemade Kettle Corn Recipe
(3 servings)
Ingredients
1/4 cup unpopped popcorn
1 tablespoon maple syrup
1 tablespoon chunky peanut butter (can substitute smooth)
dash of salt
Instructions
Pop popcorn in microwave, air popper or stove top (see Homemade Microwave Popcorn). In a small bowl in the microwave, heat peanut butter and maple syrup for 30 seconds. Pour over freshly popped popcorn, add a dash of salt, and mix with your hands. Enjoy!
Nutrition Facts
80 calories, 3.0 g fat, 11.8 g carbohydrates, 2.3 g protein, 1.6 g fiber, 78 mg sodium, 2 Points+
Points values are calculated by Snack Girl and are provided for information only. See all Snack Girl Recipes
$18.53 ($18.53 / Count) Buy on Amazon.com
As an Amazon Associate I earn from qualifying purchases.
---
Other posts you might like:
---

No one is ever going to accuse Snack Girl of not loving a WEE bit of chocolate. But, my taste bud credentials have been called into question....
---

Bored with the same old apple and peanut butter? Love to eat cookie dough out of the bowl?....
---
---
Get Free Email Updates! Yes please!
---