Love Salted Chocolate Caramels? Try This Healthy Candy Alternative
No one is ever going to accuse Snack Girl of not loving a WEE bit of chocolate. But, my taste bud credentials have been called into question.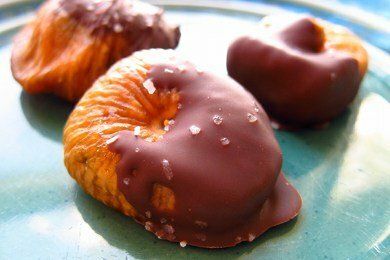 The Cookie Dough Dip recipe elicited this comment from Jodi:
I will be honest, I thought this was going to be one of those crazy vegan recipes posted by someone who has not had real food in so long they find totally unacceptable food to be 5 star worthy... but I was too intrigued to not try it.
I think it is AMAZING. My husband LOVES it. ETC.
Yes, Jodi, you are dealing with a FOODIE here. I am not vegan and while I try to eat less meat - one of my favorite foods is bacon. Everything I write about tastes DELICIOUS to me including strange cookie dough dip with chick peas.
Now, I want to you to introduce you to my new love - a dried fig, dipped in dark chocolate, with a little bit of coarse salt shaken on for a finishing touch.
You know those chocolates that feature salt and caramel? This fig concoction gives them a run for their money AND you are eating a fig instead of caramel.
A dried fig has good stuff like fiber, calcium, and potassium. Caramel can only say it has butter and sugar - it just can't compete!
I'm not even going to mention the difference in calories between a caramel covered in chocolate and a dried fig (250 vs 50).
You could eat FOUR of these scrumptious goodies for just one of the caramel chocolates.
To make these pop, you need DARK chocolate. I tried them with semi-sweet and it did not work because the fig itself is so sweet. Also, you should use coarse salt and just a little. You can find Kosher salt in the supermarket for this purpose.
Where do you find figs in the store? Well, I found them in the dried fruit section next to the raisins, dates, and prunes. I paid $5 for a small package - but I think it was worth it.
Do you like dried figs? How do you serve them?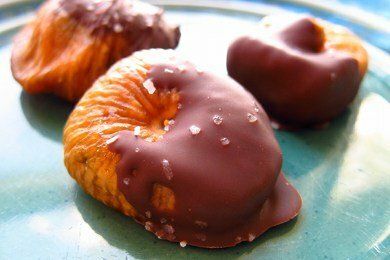 Healthy Candy Recipe

(makes 5 servings)
Ingredients
5 dried figs
1/2 ounce dark chocolate
coarse salt, for ex: kosher salt

Instructions
Lay a piece of wax paper or parchment paper on a plate. Heat dark chocolate in a small bowl in the microwave at 20 second intervals. Stir often and heat until JUST melted (chocolate burns easily in the microwave). Dip 1/2 fig in chocolate, put on plate, and dust with salt. Refrigerate for 1/2 hour and serve.
These will keep in your fridge for a long time! But, you will probably eat them before you find out how long :)
Nutrition Facts
For one fig = 62 calories, 1.0 g fat, 13.8 g carbohydrates, 0.8 g protein, 2.0 g fiber, 62 mg sodium, 2 Points+
Points values are calculated by Snack Girl and are provided for information only. See all Snack Girl Recipes
Other posts you might like:
---

Is it possible to create a healthy brownie? A regular brownie contains oodles of butter, sugar, eggs, and chocolate. They are a confection of MEGA calorific proportions and should be eaten as a treat....
---

As the weather gets warm, we want to reach for something cold. How about a chocolate shake? Most of us need to drop the ice cream from this indulgence and it isn't hard if you own a blender....
---
---
currently unavailable Buy on Amazon.com
As an Amazon Associate, I earn from qualifying purchases.
---
---
Get Free Email Updates! Yes please!
---