Four Ingredient Pumpkin Gingerbread
This lovely gingerbread includes only four ingredients.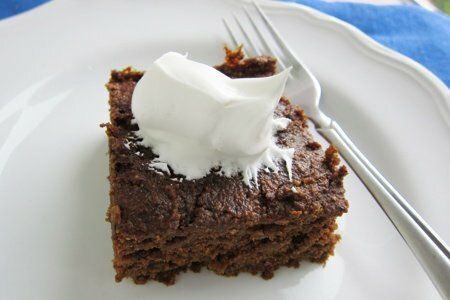 Yes, I AM a superhero (in my own mind).
The truth is that I am the opposite of a superhero because I cheated. Please don't tell my children because they are learning NOT to cheat at this very moment.
I used Hodgson Mill's whole wheat gingerbread mix instead of mixing together flour, sugar, spices, etc. This mix is 100% whole grain and has a recognizable ingredient list:
Whole Grain Whole Wheat Flour, Malt Extract, Brownulated Sugar, Wheat Starch, Milled Flax Seed, Chia Seed, Baking Soda, Vital Wheat Gluten, Cinnamon, Salt, Cloves, Vegetable Protein, Ginger
I found this mix next to the more conventional Betty Crocker mixes in the baking aisle. It might also be in the "natural foods" section of your grocery store.
I was going to simply add a 15-ounce can of pumpkin puree and call it done. My goal was a TWO ingredient gingerbread but I couldn't do it. The batter was too much like paste and I worried that the absence of fat would turn it into something that tasted flat.
I added an egg (because it is nutritious) and ½ cup of milk to get a pretty delicious bread. Is it as good as one with a stick of butter? Noooo. But, it has a nice flavor and I love that it is whole grain. One slice has 111% of your daily value of vitamin A and 21% of your daily value of iron. Yes!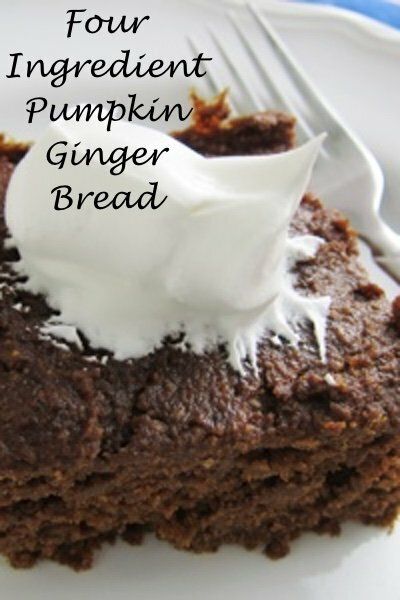 Have you tried to "doctor" mixes? Please share.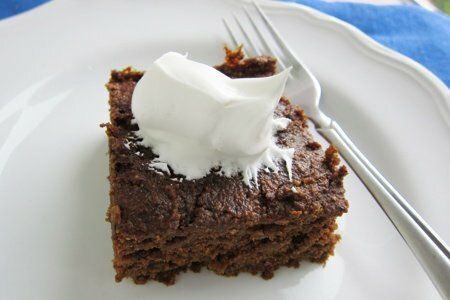 Pumpkin Gingerbread Recipe
Makes 12 slices
Ingredients
1 box Hodgson Mill Whole Wheat Gingerbread Mix
1 15-ounce can pumpkin puree
1 egg
½ cup milk (regular, skim, almond, soy, whatever you have will work)
Instructions
Preheat oven to 350 F. Lightly grease an 8x8x2 square pan. Mix together gingerbread mix, pumpkin, egg, and milk until well blended. Bake for 30-35 minutes or until a toothpick inserted in center comes out clean.
Nutrition Facts
For one slice: 151 calories, 0.7 g fat, 31.4 g carbohydrates, 12.2 g sugar, 3.5 g protein, 3.4 g fiber, 315 mg sodium, 4 Points+
Points values are calculated by Snack Girl and are provided for information only. See all Snack Girl Recipes
---
currently unavailable Buy on Amazon.com
As an Amazon Associate, I earn from qualifying purchases.
---
Other posts you might like:
---

Sometimes, Snack Girl goes on a food jag. Her latest is apples....
---

Are there pumpkins sitting at your local supermarket?
---
---
Get Free Email Updates! Yes please!
---