It's All About The Portion Size: French Fry Bites
Snack Girl's friend, Jerri, likes potatoes whatever way you serve them. Mashed, chips, baked, scalloped, or roasted he hasn't met a potato he wouldn't eat.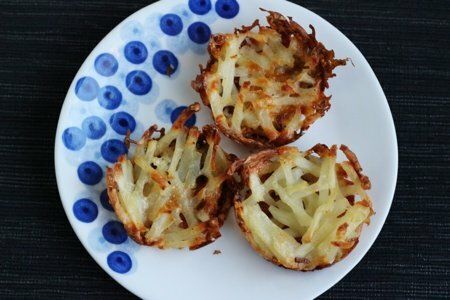 I am also a fan of potatoes and believe the low-carb diets out there have given them a bad rap. Why? They aren't the equivalent to wheat bread or cupcakes. A medium potato has 70% of your daily value of vitamin C, 12% of your daily value of magnesium, and 30% of your daily value of vitamin B-6. Yes, potatoes have carbohydrates but they also have nutrients!
Now, French fries are deep-fried and deserve a bad reputation because of their fat content. Seems that when you put potatoes in oil, the potatoes soak it up and you get a fat bomb. (My book has an easy, incredibly tasty, non-fatty fry recipe – see Snack Girl To The Rescue!).
This "French fry bite" recipe is super easy, uses very little oil, and is cooked in a muffin tin: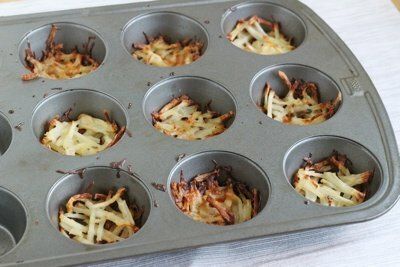 They are both crunchy and soft (like a real French fry) but you miss the fatty wallop.
The reason why the photo above is only 9 bites is because my children started to eat them before I could photograph the tin. The conditions I work under can be extreme. The food literally disappears before I get a chance to photograph it.
I used shredded hash brown potatoes from the frozen section, and pre-grated part-skim mozzarella cheese. Am I lazy? Yes. The potatoes are already sliced and peeled (nothing is added). They only cost $2 for a 30 ounce bag so I did better than if I bought fresh potatoes.
The cheese is a rip-off but what are you gonna do? Sometimes, I can't be bothered to get out my grater. Go ahead, flame me.
I made these as a half time snack for the latest round of NFL play-off games. YUM!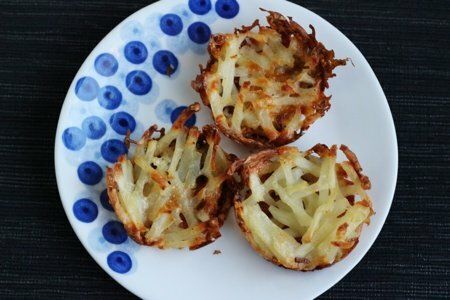 French Fry Bites Recipe
Makes 12 bites
Ingredients
3 ½ cups frozen hash brown potatoes (keep frozen)
½ cup grated part-skim mozzarella
½ teaspoon salt
1 tablespoon olive oil
non-stick cooking spray
Instructions
Preheat oven to 350 F. Coat a 12-cup muffin tin with cooking spray.
In a large bowl, combine potatoes, mozzarella, salt, and olive oil. Mix until combined and spoon mixture into the 12 cups. The mixture will almost fill each cup (these bake down to ¼ the initial size).
Bake for one hour in the lower third of the oven or until slightly browned on the top (see photo). Using a butter knife, gently loosen the French fry bite from the tin. Serve immediately.
Nutrition Facts
For one bite: 64 calories, 2.7 g fat, 1.1 g saturated fat, 7.1 g carbohydrates, 0.6 g sugar, 3.0 g protein, 1.1 g fiber, 158 mg sodium, 2 Points+
Points values are calculated by Snack Girl and are provided for information only. See all Snack Girl Recipes
Other posts you might like:
---

Snack Girl features potatoes because they are inexpensive, nutritious, and super yummy....
---

Everyone has their favorite treat. I happen to love potato chips....
---
---
Get Free Email Updates! Yes please!
---