One Of Snack Girl's Favorites: Fresh Salsa
Snack Girl is always looking for shortcuts. She lacks time.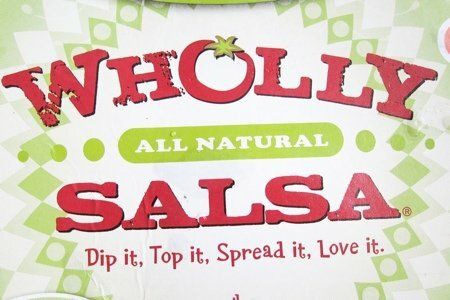 Time for making my own salsa would be luxurious. I also crave time to brush my hair.
Enough about me. The fact is there are plenty of fresh salsas in your grocery store's refrigerated section that are tasty and made with nothing but ingredients you will recognize. I like these better than the jarred salsas because the consistency and flavor is closer to one I would make for myself.
See Wholly Salsa's Ingredient list:

I bought this for $2.49 and I will use it in about 3 days. What do I do with it? Do you think I will eat it with chips? No, I am not suggesting you eat chips (would I do that?).
Here are 10 HEALTHIER ideas for fresh salsa:

1. Stir it in scrambled eggs.
2. Try it on or in a burger. See Salsa Burger
3. Mix it into brown rice and add black beans and cheese.
4. Add it to the top your baked potato.
5. Mix it into tuna salad.
6. Top off your taco or burrito.
7. Eat as a side dish for fish (don't forget the lime).
8. Add it to your pizza.
9. Bake it in cornbread (mix it in the batter).
10. Use it as a flavoring agent for chicken noodle soup.

Fresh salsa is so versatile. Two tablespoons is a whopping 9 calories and it adds a ton of flavor.
What do you do with salsa? What is your favorite brand?
---
Other posts you might like:
---

Something green and yummy is sitting right now in your supermarket and it will make your taste buds sing. This fruit resembles a tomato and is a staple of Mexican cuisine...
---

Snack Girl hasn't sucked on a hockey puck lately, but she has grilled skinless chicken breast past the point of edible....
---