How To Eat Less Red Meat & Still LOVE Your Burger
This burger above has a secret. It is not as fattening as it seems. What did Snack Girl do?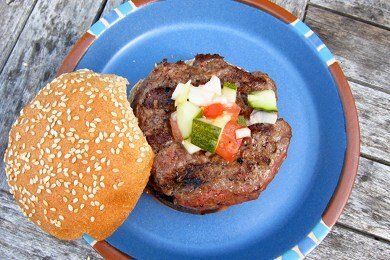 Did she add beans or spinach, make it with turkey, or stuff it with bread crumbs? Nope. I took out a shot gun and shot a hole through it.
(actually, I used a shot GLASS since my shot GUN is imaginary)
see below: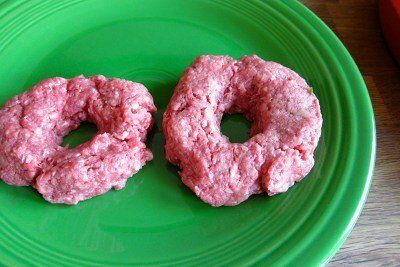 I made a 4 ounce patty - grabbed a shot glass - and punched a small hole in the burger. I made a donut burger!
Why did I do that?
Well, it turns out that a restaurant called 4Food in NYC is selling burgers this way because you can grill it so that the inside and the outside cooks at the same speed.
Ground meat needs to be cooked to a temperature of 165 F to be safe for consumption. When you do that with a whole burger, the outside edge can go to 190 F rendering it like leather.
I know I have had many fast food burgers that would make great material for my shoes.
So, they decided to make "donut" shaped burgers and grill them so that they don't compromise the flavor. AND, they make fillings for the inside. Some of them are healthy (salsa) and not so healthy (mac and cheese).
For those of you who are trying to cut red meat and calories, this is a great solution. This burger tastes DELICIOUS and it has added vegetables.
Based on a suggestion from my pal, Chef Blaine, I decided to make a pickle, tomato, and onion relish to go into the center of my burger. Every bite was burger and yummy fresh relish.
I will admit that this takes some getting used to if you eat LARGE burgers. My suggestion is to eat it slowly and really experience the taste of the meat.
How do you deal with the summer of burgers?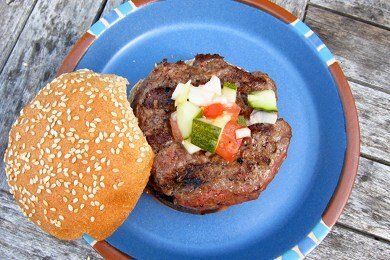 Donut Burger and Relish Recipe

(makes 5 burgers)
Ingredients
1 pound ground beef
1/2 onion
1 whole pickle
1 medium tomato
salt (optional)
5 100% whole wheat burger buns (optional)
Instructions
Make 4 round, flat patties of beef with your hands being careful not to handle too much. Using a small round cookie cutter or shot glass, cut a hole in the center of the patty and use the meat to make another small burger. Chop onion, pickle, and tomato and taste (add salt if necessary). Place relish in bowl.
Heat grill for 10 minutes on high heat. Place burger patties on grill for 2 minutes a side for medium rare or 3 minutes per side for well done. Toast buns on grill for 1-2 minutes each.
Serve burgers with relish in center of whole and any other of your favorite condiments.
Nutrition Facts
With Bun = 280 calories, 7.4 g fat, 20.4 g carbohydrates, 31 g protein, 3.2 g fiber, 450 mg sodium, 7 Points+
Without Bun = 178 calories, 5.7 g fat, 2.0 g carbohydrates, 27.9 g protein, 0 g fiber, 200 mg sodium, 4 Points+
Points values are calculated by Snack Girl and are provided for information only. See all Snack Girl Recipes
Want to read about snacks?
Simple and Healthy Cooking From Top Chefs
Z Fries: The Latest In Nutritious, Delicious, and Low Cal Fries
I Can't Believe You Don't Eat Butter!
Sweet Corn Is A Stellar Snack
---
Get Free Email Updates! Yes please!
---