Fresh Tomato Sauce Recipe: No Cook
This is the fresh tomato sauce recipe for now! Those tomatoes are literally rolling into stores and farmers markets and this is the time of year that they taste the best.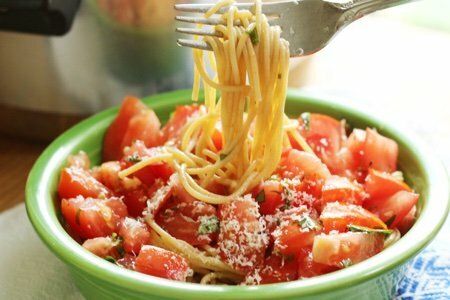 This year, I taught how to grill tomatoes and I made a delicious cold tomato soup but there is nothing like fresh tomato sauce.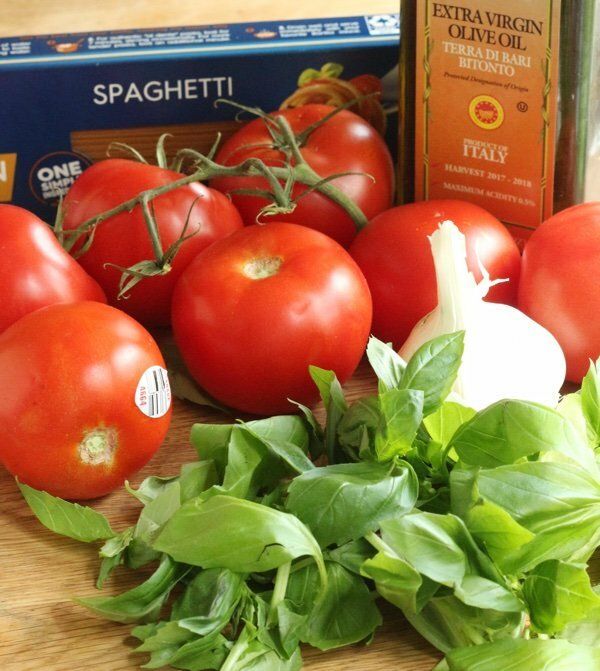 It is so easy to make this – if you haven't done it - you will wonder where it has been hiding all these years. The key, of course, is the freshest tomatoes you can find. Those Styrofoam tomatoes will not work in this recipe.
Just an aside about the pasta. I use only whole grain pasta (just like my bread). You can't miss it in the pasta aisle and it comes in all the different shapes.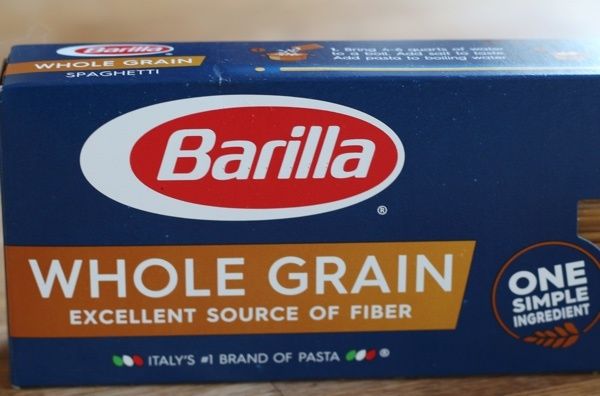 In one serving of angel hair (2 ounces), there is 7 grams of fiber and 8 grams of protein in this pasta – which is made with one ingredient – whole grain durum wheat flour.
Does it taste okay? YES! It is all about what you put on it. I like the nuttier flavor but it isn't that different than the regular white flour pasta.
Back to the sauce!! All you do is roughly chop the tomatoes – no seeding or peeling is necessary.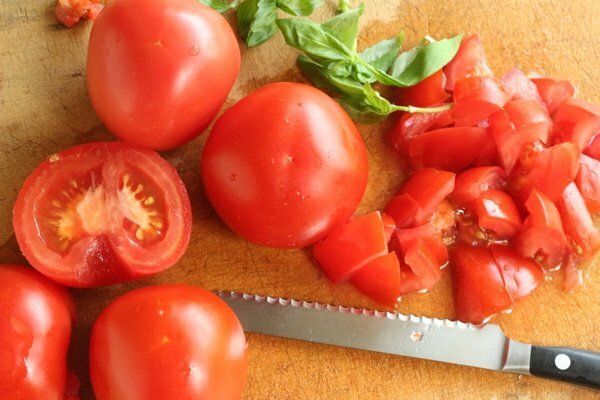 Then you mix it with some fresh basil, garlic, olive oil, and a little salt and pepper and let it sit while you do other important things.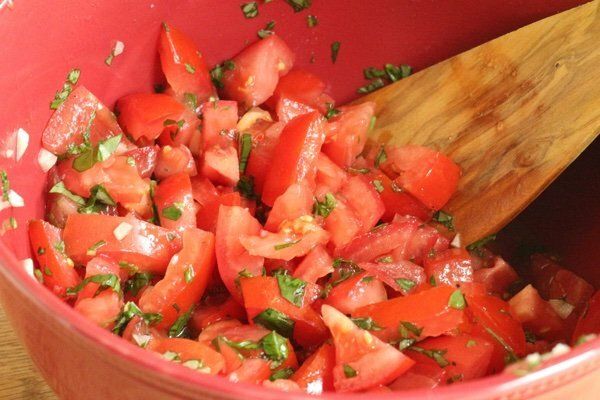 That's it!! To heat it up, you serve it on top of the hot pasta and you can add some grated Parmesan cheese if you are feeling fancy.
The time it rests allows the tomatoes to ooze out their juices and the pasta soaks it up when you toss it. This sauce is so good!!!
Don't feel like you need to eat this on pasta. You can put it on grilled bread or pour it over spaghetti squash or zoodles.
Do you make fresh tomato sauce? What do you use in your recipe?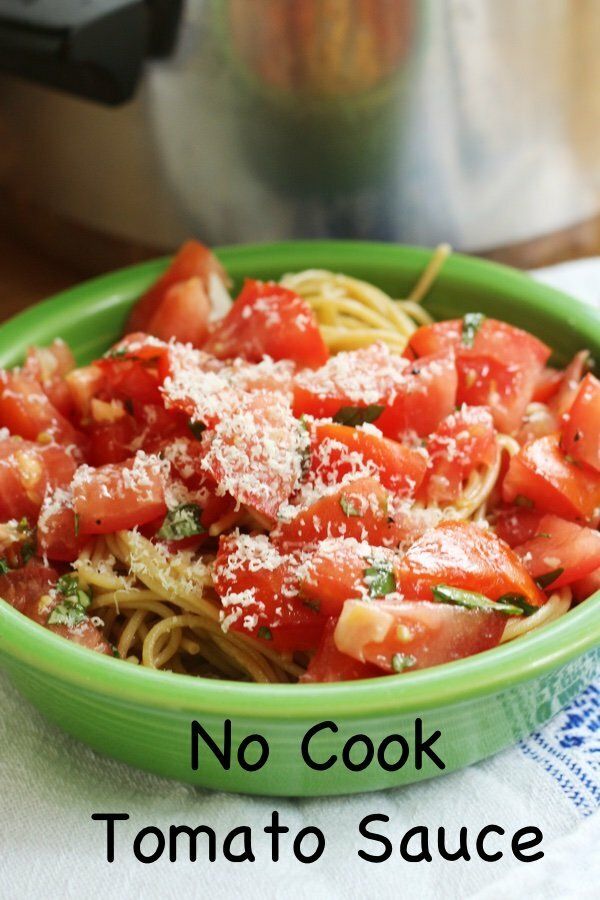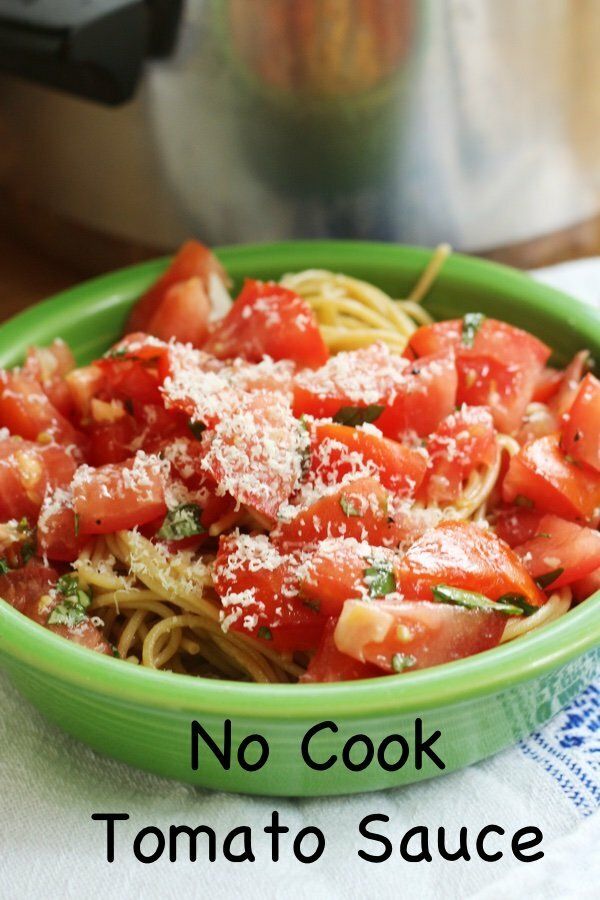 Fresh Tomato Sauce Recipe
Makes 3 ½ cups (4 servings)
Ingredients
1 ½ pounds fresh tomatoes, coarsely chopped
1/3 cup fresh basil, minced
1 tablespoon extra-virgin olive oil
2 garlic cloves, peeled and chopped
salt and pepper to taste
Instructions
Mix tomatoes, basil, olive oil, and garlic in a medium bowl. Leave (covered) at room temperature for 30-60 minutes. Serve over pasta, bread, or squash.
Nutrition Facts
One serving without pasta is 64 calories, 3.9 g fat, 0.6 g saturated fat, 7.2 g carbohydrates, 4.5 g sugar, 1.7 g protein, 2.1 g fiber, 50 mg sodium, 1 Freestyle Smart Pt
Points values are calculated by Snack Girl and are provided for information only. See all Snack Girl Recipes
Other posts you might like:
---

Do you know how to grill tomatoes? Everyone will stop by if they hear you can do it.....
---

Cold tomato soup is also known as gazpacho. If you haven't tried a cold soup, now is your moment when the produce is fresh.....
---
---
Get Free Email Updates! Yes please!
---