Fast Food Fried Chicken Experiment: The Results Are In!
Last week, I started another experiment see here: Fast Food Fried Chicken Experiment: Is it Fresh Food?. My experiment has gone 7 days and the results are in.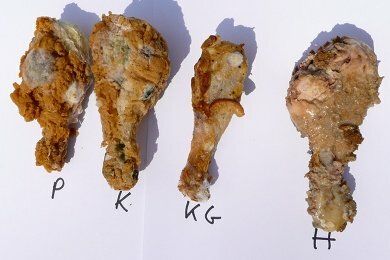 Here is the original picture and the key: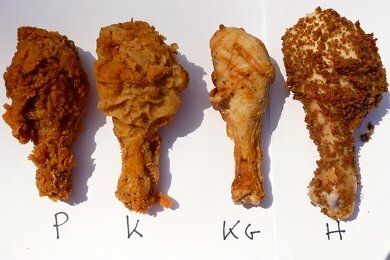 1. P = Popeye's
2. K = KFC Original
3. KG = KFC grilled
4. H = Homemade by Snack Girl

As you can see, the fried chicken rotted (as did my homemade chicken which basically melted). I shot this photograph outside because the chicken was so disgusting after sitting in a plastic bag for 7 days.
Why did the fried chicken decompose while the McDonald's cheeseburger remained untouched (see McDonald's Burger Left for Two Weeks)?
My theory is that the fried chicken is closer to REAL food. I spoke briefly to a manager at KFC who informed me that they receive a shipment of fresh chicken (never frozen) to their stores every 3 days.
The chicken is then breaded and deep fried. The KFC Original Recipe® Chicken is:
Fresh Chicken Marinated With: Salt, Sodium Phosphate and Monosodium Glutamate. Breaded With: Wheat Flour, Sodium Chloride and Anti-caking agent (Tricalcium Phosphate), Nonfat Milk, Egg Whites, Colonel's Secret Original Recipe Seasoning.
Okay, so you have A LOT of salt, but basically it is milk, eggs, and flour on fresh chicken. The manager also explained to me that fried chicken really isn't fast food. Huh?
Well, it seems they cook a whole bunch of chicken (it takes 20 minutes) and then leave the chicken in a warmer for people to grab and go. Every day they guess what they will sell and then make it before customers even arrive.
I want to be clear that I am not saying that fried chicken is a healthy choice, but it may be closer to a whole food than a McD's hamburger. Battered and deep fried food is a treat and not an every day choice.
What about the KFC® Grilled Chicken ? It makes me a little sad to post this ingredient list:
Fresh Chicken Marinated With Salt, Sodium Phosphate, and Monosodium Glutamate. Seasoned With: Maltodextrin, Salt, Bleached Wheat Flour, Partially Hydrogenated Soybean and Cottonseed Oil, Monosodium Glutamate, Spice, Palm Oil, Natural Flavor, Garlic Powder, Soy Sauce (Soybean, Wheat, Salt), Chicken Fat, Chicken Broth, Autolyzed Yeast Extract, Extractives of Turmeric, Dehydrated Carrot, Onion Powder, and Not More Than 2% Each of Calcium Silicate and Silicon Dioxide Added As Anticaking Agents.
Why do they add all that? Wouldn't just fresh grilled chicken with some salt taste great? The grilled chicken does have fewer calories so it is a better choice than your regular deep fried chicken. I haven't tasted it but I would guess it would taste salty.
Why do you think the chicken rotted and the McD's cheeseburger remained intact?
Want to read about snacks?
The Healthiest Microwave Popcorn
Natural Jif: What's The Dif?
Avoid The Evil Muffin at Starbucks With This Healthy Snack (Giveaway, too!)
Why You Should Have a Post-It Stuck To Your Mirror