McDonald's Burger Left for Two Weeks
After 11 days of sitting at room temperature in a Ziploc bag, this is the photo of the 2 burgers. Obviously, the one on the right is the homemade burger and the one on the left is the McDonald's cheeseburger.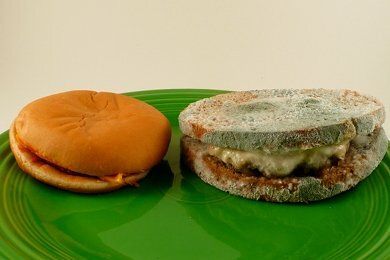 The McDonald's burger was purchased about 30 minutes before I made the control burger. See the original post:
The Tale of Two Burgers: The Beginning
Two close-ups: 11 day old McDonald's cheeseburger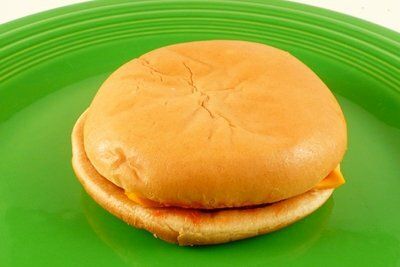 This cheeseburger smells the same as when it was purchased. When opened - it showed no signs of decomposition. I will continue to post photos every Saturday on its progress (or lack there of).
11 day old homemade cheeseburger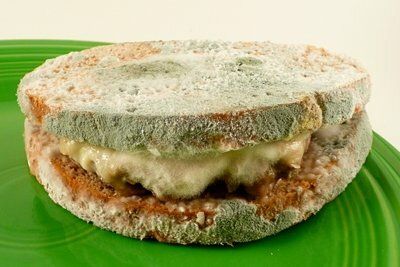 This cheeseburger had to be tossed out because it smelled really bad.
Why didn't the McDonald's cheeseburger rot?
My answer is simple. It isn't food. Here is the definition of food:
any nourishing substance that is eaten, drunk, or otherwise taken into the body to sustain life, provide energy, promote growth, etc.
Where I get stuck is the word nourishing. If bacteria or fungi aren't interested in "eating" this cheeseburger, how can it be nourishing to human beings?
On a personal note, I used to eat fast food regularly. My university was across the street from a McDonald's and my home in San Francisco was about 100 yards from a Burger King.
I'm not sure when exactly it was, but I starting getting bad stomach aches whenever I ate a cheeseburger from a fast food venue. My stomach just couldn't handle the food. At first, I thought it was because of the grease. But, I can eat other really fatty things without a stomach ache.
Maybe I am getting stomach aches because my body cannot DIGEST this burger. If bacteria from the air can't digest the McD's cheeseburger in 11 days - how is my intestinal bacteria (along with stomach acids) supposed to digest it in 24 hours? Just a thought.
I am asking Micheal Pollan and someone at McDonald's to discuss this experiment with us. I don't know if either will reply - but if we cause enough of a ruckus - I believe we can get some answers.
Last week's Tostitos post must have bugged Frito-Lay, a dietician that works for them contacted me.
Please forward this blog post to your friends via FaceBook, Twitter, and/or e-mail.
Every school science class can do this experiment for $3, and I think it is worth doing. We need to discuss this "food" with our children and our families and decide how it contributes to our overall health.
---
Other posts you might like:
---

Last week's post on the rotting cheeseburger has created controversy here on Snack-Girl. If you didn't see it check it out here McDonald's Burger Left for Two Weeks....
---

Most of the discussion on drinking soda has focused on high fructose corn syrup and its detrimental effects on blood sugar and weight. But, what about your teeth?...
---
---
Here is the ingredients of the cheeseburger via McDonald's website:
Cheeseburger:
100% Beef Patty, Regular Bun, Pasteurized Process American Cheese, Ketchup, Mustard, Pickle Slices, Onions
100% Beef Patty:
100% pure USDA inspected beef; no fillers, no extenders. Prepared with grill seasoning (salt, black pepper).
Regular Bun:
Enriched flour (bleached wheat flour, malted barley flour, niacin, reduced iron, thiamin mononitrate, riboflavin, folic acid, enzymes), water, high fructose corn syrup, sugar, yeast, soybean oil and/or partially hydrogenated soybean oil, contains 2% or less of the following: salt, calcium sulfate, calcium carbonate, wheat gluten, ammonium sulfate, ammonium chloride, dough conditioners (sodium stearoyl lactylate, datem, ascorbic acid, azodicarbonamide, mono- and diglycerides, ethoxylated monoglycerides, monocalcium phosphate, enzymes, guar gum, calcium peroxide, soy flour), calcium propionate and sodium propionate (preservatives), soy lecithin.
Pasteurized Process American Cheese:
Milk, water, milkfat, cheese culture, sodium citrate, salt, citric acid, sorbic acid (preservative), sodium phosphate, artificial color, lactic acid, acetic acid, enzymes, soy lecithin (added for slice separation).
Ketchup:
Tomato concentrate from red ripe tomatoes, distilled vinegar, high fructose corn syrup, water, corn syrup, salt, natural flavors (vegetable source).
Mustard:
Distilled vinegar, water, mustard seed, salt, turmeric, paprika, spice extractive.
Pickle Slices:
Cucumbers, water, distilled vinegar, salt, calcium chloride, alum, potassium sorbate (preservative), natural flavors (plant source), polysorbate 80, extractives of turmeric (color).
Onions:
Chopped onions.