A Great Choice For A Frozen Waffle
Breakfastpalooza continues here on Snack Girl with a question about frozen waffles.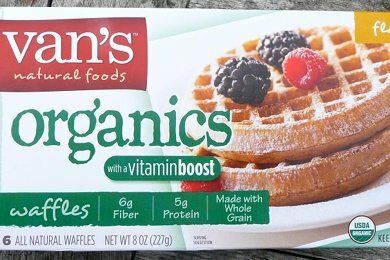 Clay e-mailed me her question:
We eat relatively healthily. However, my husband does most of the grocery shopping (yay for him!) and sometimes comes home with purchases that I'm less than thrilled about. Which means that my kids now get frozen pancakes and waffles for breakfast pretty often. Are there yummy, good options for these that you've seen?
First of all, way to go on giving up control of the grocery shopping. Everyone has to pitch in to make a family work and it is great to see chores being shared. Enough of the second shift!!
Clay, I checked out the "Natural Foods" frozen section of my grocery store and found Van's toaster waffles and pancakes.
Here is their ingredient list: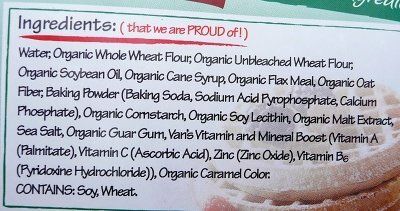 Yes, they keep banging you over the head with the fact that the pastries are organic - but what I like is the lack of preservatives. The cool thing about freezer items is that the manufacturers don't have to worry about shelf life (like the Pop-Tarts of the world).
The fiber is 6 grams per serving, sugar is 3 grams, and there is just 200 calories. For a packaged breakfast, these pretty much kill it.
Obviously, the best choice is to make your own pancakes or waffles. Earlier in the week I posted: A Grab And Go Breakfast With Staying Power
We don't always have time to cook our breakfast in the morning.
These toaster waffles are a great solution to have stashed in your freezer for your CRAZY mornings (you KNOW which ones I am talking about). Also, you can serve these as a snack with some Which Peanut Butter is Healthiest?, cream cheese, or other spread to make them more delicious.
They taste pretty good and they cost about $2.70 per 6 waffles. Which seems exorbitant when you compare them to making your own, but when compared to other packaged breakfast foods they aren't so bad.
Does anyone know of other good brands for frozen waffles or pancakes?