A Grab And Go Breakfast With Staying Power
My daughter begged me to serve her pancakes for her first day of school. Pancakes are usually a weekend treat, but how could I deny her?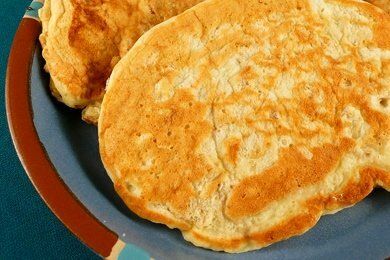 With all the craziness that goes on around here in the morning, I had to come up with something super easy. So, I read my own website - funny how I have to look things up that I have written, tested, eaten, etc. Blame it on mommy brain!
Back in February, I posted: Overnight Pancakes . One commenter had problems with the pancakes cooking through (as did I) so I reworked the recipe for Ruby's first day of school.
The AWESOME thing about this pancake recipe (as opposed to many others) is that includes 1/2 whole grains in the form of whole oats. Also, there is yogurt and eggs that pump up the nutritional value for a great start to the day.
If you added Blueberries and some Which Peanut Butter is Healthiest?, you would make it to lunch without a mid-morning snack.
You can leave this in the fridge for a couple of days and then cook as needed or cook them all at once and pop them in the microwave. These are also a great anytime snack. They look like a cookie, but aren't as laden with calories or sugar.
Finally, the great thing about pancakes is that you get to eat a baked good without all the baking! They are done so fast and are a great replacement for an evil This Muffin Has a Dark Secret.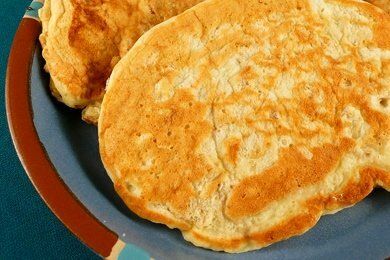 Improved Overnight Pancake Recipe
(serves 4)
Ingredients
3/4 cup white flour
3/4 cup rolled oats (not instant)
1 tsp baking soda
1/2 tsp salt
1 Tbs sugar
1/2 cup yogurt
3/4 cup milk
2 eggs
Instructions
Mix ingredients together in a large bowl. Place in refrigerator overnight. In the morning pour batter in heated non-stick pan until bubbles begin showing on the surface. Turn pancake over with spatula - wait 2 minutes and serve.
Nutrition Facts
One serving is 229 calories, 4.8 g fat, 35.9 g carbohydrates, 10.3 g protein, 2.2 g fiber, 678 mg sodium, 6 Points+
Points values are calculated by Snack Girl and are provided for information only. See all Snack Girl Recipes
What is your favorite quick and healthy breakfast idea?
---
---
Get Free Email Updates! Yes please!
---