The Simplest BBQ Dessert: Berry Brownie Fruit Skewers
Looking for something easy, delicious, portable and fun? Check out my fruit skewers.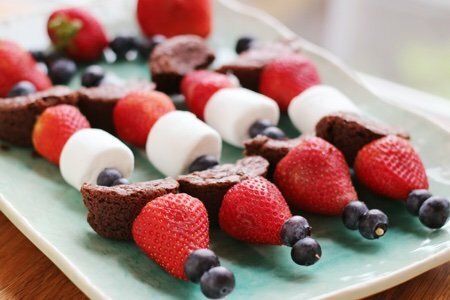 As we rev up for summer, it is time to break out the sticks and start putting things on them (check out my rainbow fruit skewers. Why do I like skewers?
No cooking – the kitchen is hot!
Lighter than your average dessert.
Gets some fruit into the kids and they don't even notice.
They double as a weapon.
You never know when you are going to have to defend yourself at a BBQ. I'm looking at you uncle Henry.
Berries are the best because they are so colorful and inexpensive right now and you don't have to cut them up like other fruit. They disappear in my house so fast that I found I must hide them.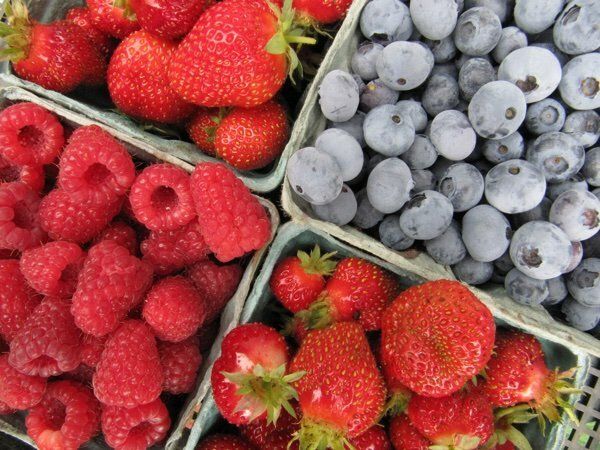 I bought circular brownie bites in my supermarket's bakery section because I thought that they would stick on a skewer better than brownies that I could make at home. They have a nice crunchy edge to them. They also saved me from having to make them - hurray!
I cut the brownie bites in half and stuck both of them on the stick with a marshmallow, 2 strawberries, and some blueberries. I believe this dessert took me around 30 seconds.
They are also very patriotic (red, white, and blue) and stood in for decorations, which I do not have.
My fruit skewer is under 150 calories (3 SmartPoints) and people go nuts when you bring them out. I had trouble shooting the photos because my husband kept trying to grab one. Sheesh!
Combining fruit with a treat allows you stretch the brownie bites and keep the calories much lower than if you ate three brownie bites (360 calories).
I happen to love strawberries and chocolate and this does stop me from overindulging in dessert.
How do you combine treats and fruit for a satisfying dessert?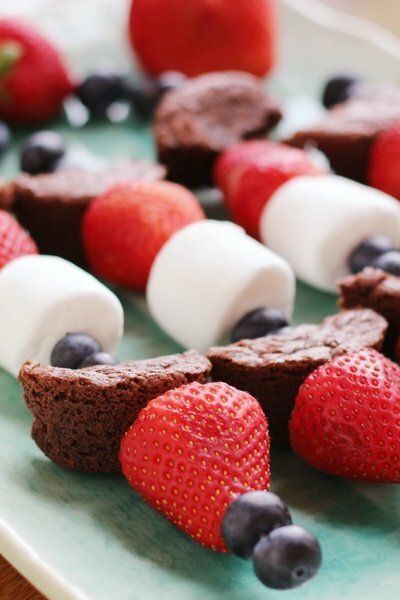 ---
Other posts you might like:
---

I'm not going to say that these rainbow fruit skewers are as easy as other desserts, but I will say that they are worth the work....
---

The Zoku Ice Cream Maker solves one of life's biggest problems – a freezer that calls your name....
---