Rainbow Fruit Skewers
I'm not going to say that these rainbow fruit skewers are as easy as other desserts, but I will say that they are worth the work.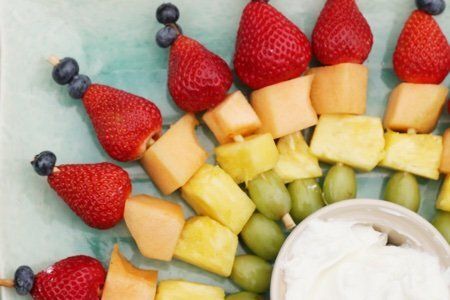 Produce is hitting the stores in wonderful waves of colors right now and summer barbecues are happening. Do you want to be the one with the fruit skewers or the cupcakes? Did I hear fruit skewers? Right on.
Go out and buy yourself a bunch of colorful fruit. I chose pineapple, cantaloupe, grapes, strawberries, and blueberries but you can easily find other vibrant colors -kiwi and honey dew for green, dark purple grapes for blue, watermelon for pink, and oranges for orange.
Don't feel like you have to use what I used. It is smart to stay away from fruits that turn brown such as apples and bananas.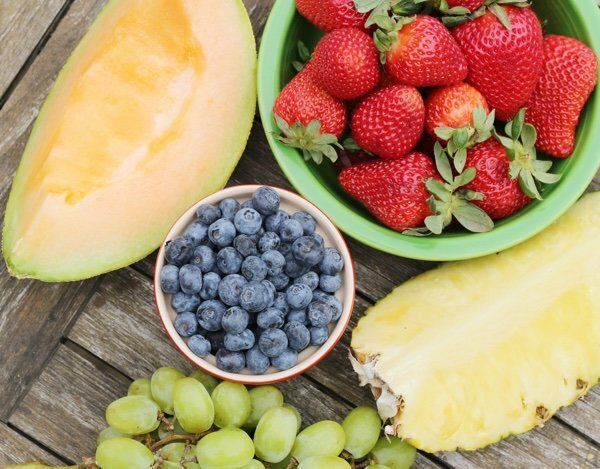 Now for the hard part, Slicing everything up – boring! I have always been intimidated by pineapple – spiky – until I read the directions for cutting it up that were conveniently located on the Dole label.
You twist the top off. Slice off both ends to have a flat surface. Cut it in half and then into quarters and slice off the peel. Then,you can cut it into whatever chunks you want. It really isn't hard at all. What was I thinking?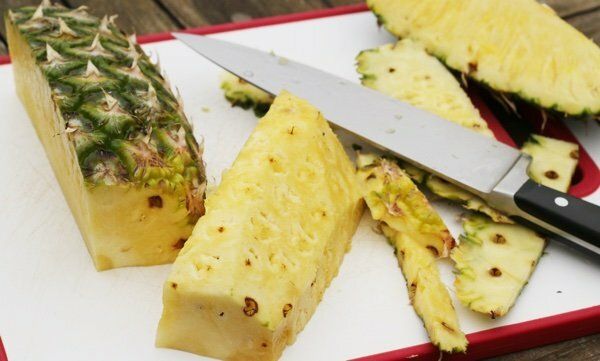 As you slice up the fruit, you need to watch out for little hands that might start grabbing before you are done. I had trouble making these skewers because my kids kept eating up all the fruit before I could finish. Basically, I was stuck chopping for what felt like hours.
For the rainbow fruit skewers, I threaded the rainbow twice on each skewer and used a kitchen scissors to cut the skewer in half. I also cut off the sharp point because I didn't want anyone to stab themselves in the mouth when they ate these.
You can add a fruit dip if you want to get fancy. Vanilla yogurt or vanilla Greek yogurt is perfect if you want to buy a flavored yogurt or you could make my fruit dip below. I find that no one notices if you don't include a dip though it does make the presentation work.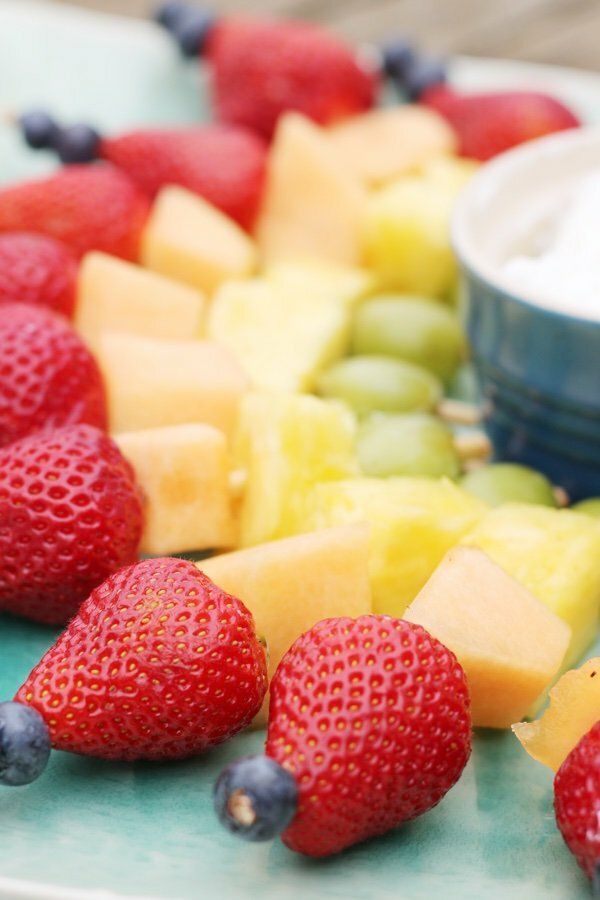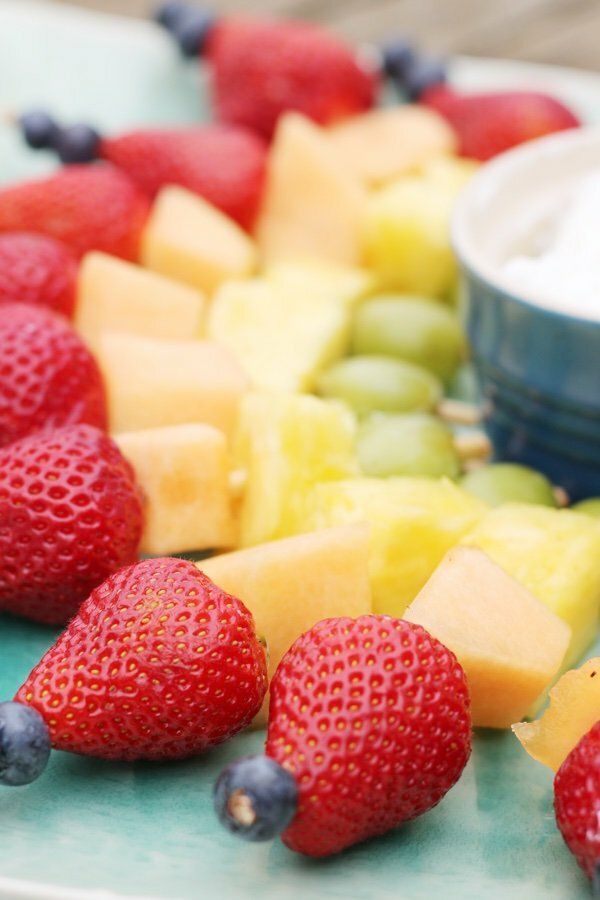 Rainbow Fruit Skewers Recipe
Makes 10
Ingredients
1 pound strawberries, washed and hulled
¼ cantaloupe, cut into 1-inch pieces
¼ pineapple, cut into 1-inch pieces
1 pint blueberries, washed
½ pound green grapes, washed
5 ounces plain yogurt
1 teaspoon honey
Instructions
Thread fruit onto wooden skewers in a rainbow color pattern. If your skewers are long, cut them in half and cut off the sharp end after you finish piercing the fruit. Mix the yogurt and honey together and place in a small bowl. Enjoy!
Nutrition Facts
One skewer is 41 calories, 0.4 g fat, 0.0 g saturated fat, 8.5 g carbohydrates, 6.0g sugar, 1.4 g protein, 1.8 g fiber, 11 mg sodium, 0 SmartPts
Points values are calculated by Snack Girl and are provided for information only. See all Snack Girl Recipes
Other posts you might like:
---

How about some dessert eye candy before the big BBQ?...
---

My grill is fired up and I have started poking things with sticks....
---
---
Get Free Email Updates! Yes please!
---