The Truth about Fruit Snacks
I have been asked about fruit snacks quite a few times and I hate it when the person is standing in front of me.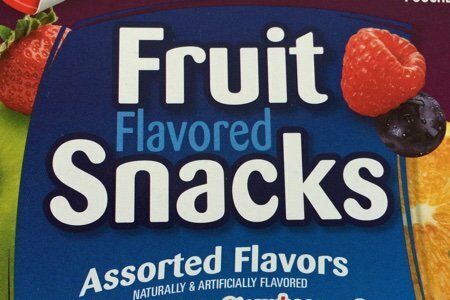 The conversation goes like this:
"Hey, aren't you Snack Girl? My kids love fruit snacks. Isn't it great how we can agree on a healthy choice?"
(me) "I love it when parents and kids agree." Exit, stage left.
I don't have the heart (or the balls) to tell them that they have been duped by marketing and that if their kids LOVE them – there is probably a problem.
If I could be totally honest in that moment, I would say something like this: "Fruits snacks are an abomination! They aren't fruit – they are flavored with fruit juice. All they are is a glorified gummy bear. Just give your kids gummy bears – they taste better."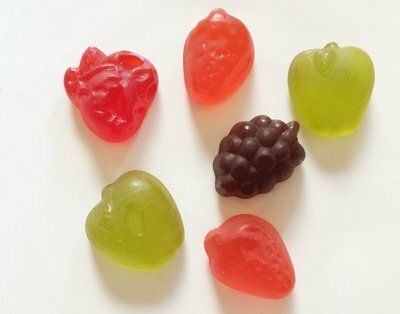 See, gummy fruit!
Of course, parents are confused by these snacks. Look up at this package. If you are balancing a toddler and a baby in a shopping cart – are you going to notice the word "flavored"? See how it is in lighter type?
Here is an example ingredient list:
Corn Syrup, Sugar, Fruit Juice from Concentrate (Pear, Apple), Gelatin, Sorbitol, Malic Acid, Natural and Artificial Flavors, Sodium Citrate, Ascorbic Acid (Vitamin C), Mineral Oil (Adds a Dietarily Insignificant Amount of Fat), Corn Oil (Adds a Dietarily Insignificant Amount of Fat), Tocopherol Acetate (Vitamin E), Carnauba Wax (Adds a Dietarily Insignificant Amount of Fat), Vitamin A Palmitate, Red 40, Blue 1, Yellow 6, Yellow 5
The first three ingredients are forms of sugar.
Here is the truth (as I see it):
Fruit snacks are made with fruit juice concentrate – a form of sugar.
They have nothing to do with actual fruit (fiber, water, micronutrients, etc.)
They can have artificial colors and flavors.
The packaging of them is an ecological nightmare.
Fruit snacks should be considered candy.
Real fruit snacks should be:
Sliced up apples, oranges, bananas
Dried fruit such as raisins, apricots, or cherries
I put little boxes of raisins in my kids lunch boxes and they love them. Though, they do complain that they aren't getting "fruit snacks" like their friends.
Oh well.
What do you think of fruit snacks?
---
Other posts you might like:
---

Someone told me about this new product from Oscar Mayer and I thought they were joking....
---

Snack Girl does not enjoy flaming food products. I would much rather find food that is good and champion it...
---