Gluten-Free Fluffer Nutters
On Monday, I received a request for a gluten-free donut. Well, I would be in the deep end of the pool if I attempted that.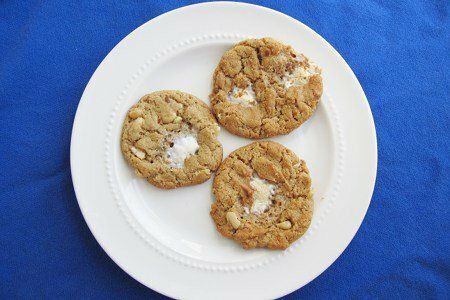 But, when it comes to cookies - I CAN DO gluten-free. Here I used peanut butter and skipped the flour and the butter to make a treat.
First, I had to make the age old mistake of using 3/4 cup of salt instead of 3/4 cup sugar as I was working this recipe out. Anyone else out there do that? I have two containers that look identical for my sugar and salt (not smart) and I tasted my batter only to find I had used salt. ooops.
I tossed out the dough and realized I was out of peanut butter! Noooo! I looked in my cabinet one last time and my pal, Peanut Butter Boy, came to my rescue.
Only someone named Snack Girl could have a friend named "Peanut Butter Boy".
He had sent me some samples of his new line of peanut butter and I used a cup of the crunchy style for these cookies. I can only say, "Thank you, Peanut Butter Boy for saving my day and making some tasty peanut butter." It IS good and you should take a look if you are a peanut butter aficionado - see: Peanut Butter Boy.
These are not particularly low in calorie but they are lower in saturated fat than regular cookies and are super easy to make. You don't have to add the marshmallows. I added them to make the cookies a bit more fun.
In the end, I went with brown sugar as the texture made it easier for the cookies to stick together (and I will never confuse it with salt).
Do you make peanut butter cookies? What do you put in them?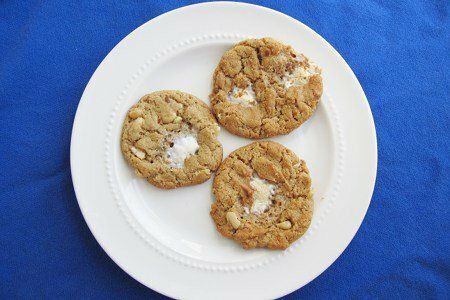 Gluten Free Fluffer Nutter Cookies Recipe
Makes 24 cookies
Ingredients
1 cup all natural peanut butter (can use creamy or chunky)
1 egg
3/4 cup brown sugar
1/2 teaspoon baking soda
1 tsp. vanilla extract
1/2 cup miniature marshmallows
Instructions
Preheat oven to 350F. Mix peanut butter, egg, brown sugar, baking soda, and vanilla extract until well blended. Fold in the marshmallows. Drop spoonfuls on baking sheet about one inch apart. Bake for 10-12 minutes until brown on the edges.
Remove from baking sheet immediately (or the marshmallow will stick) and cool on a plate.
Nutrition Facts
For one cookie - 99 calories, 5.6 g fat, 1.2 g saturated fat, 10.3 g carbohydrates, 7.6 g sugar, 3.0 g protein, 0.7 g fiber, 84 mg sodium, 3 Points+
Points values are calculated by Snack Girl and are provided for information only. See all Snack Girl Recipes
Other posts you might like:
---

Did you grow up with the commercial where the chocolate bar ended up in the peanut butter? I am probably dating myself....
---

The photo above and peanut butter are not exactly the same things. I got a wee bit carried away with peanut butter making....
---
---
Get Free Email Updates! Yes please!
---