A Tasty Low Calorie Bar With 50% of Your Daily Fiber
Snack Girl wishes that she liked packaged bars. Most of them are reaching for a nutrition halo that they simply don't deserve.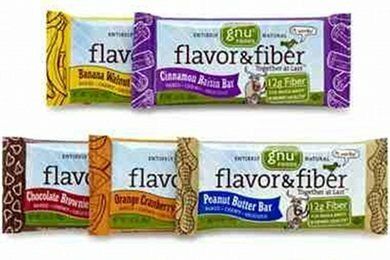 (Snack Girl doesn't deserve a nutrition halo either.)
BUT, I was sent a bar to sample that I actually like and can recommend. The Gnu Bar has a very clean ingredient list, a delicious taste, and it fills you up with 50% of your daily value of fiber.
My other favorite bars - LARA bar and KIND bars - are basically fruits and nuts stuck together. These bars are a bit high in calories and I definitely am aware that I should eat just half of one for a decent snack. But, do I?
See the information below for the Gnu Chocolate Brownie Bar:
Ingredients:
Gnu High Fiber Blend™ (whole rolled oats, organic whole wheat flour, wheat bran, organic kamut, psyllium, flax, millet), chicory root inulin, fruit juices, rice dextrins, dark chocolate chips (chocolate, cane sugar, lecithin, vanilla), cocoa powder, canola oil, plums, rice, wheat protein isolate, natural flavors, baking powder.
Nutritional Facts:
140 calories, 4 g fat, 30 g carbohydrates, 4 g protein, 12 g fiber, 30 mg sodium, 4 Points+
One hundred and forty calories for a bar is on the low side, and it tasted pretty good. My favorite flavor is the "Espresso Chip Bar" which is a combination of coffee and chocolate chips - very tasty.
You get whole grains and a bunch of fiber to fill you up.
Do you remember the almost inedible GG Bran Crispbread crackers? They were 5 grams of fiber and tasted a bit like cardboard. These Gnu bars accomplish the same task - high fiber - and are more accessible. My children, of course, did not find them accessible and pronounced them "disgusting". Ahh well, you can't win them all!
Here is their store locator if you want to grab one to try when you are out and about: Gnu Bar Store Locator.
Comment below on your favorite ways to add fiber to your diet to win a box of Gnu bars.
This product was received for review consideration. No other compensation was provided.
---
What will I win?
A box of 14 Gnu Bars of different flavors ($27 retail value)
How do I enter?
Comment below on your ideas for on how to get enough fiber in your diet.
Additional Ways To Enter:

Follow Snack-Girl on FaceBook. Comment on the FB page on your fiber source.

Follow Snack-Girl on Twitter and Tweet this post (use the Tweet Button in the Share Box at the top of this post).

Snack-Girl can follow and count all the additional entries using magical website tools.
Am I eligible to enter?
This giveaway is offered to US residents only.
When do I find out if I am the winner?
The winner will be announced on June 23rd, 2011. You will have 2 weeks to e-mail us back with your home address so we can mail the prize.
---
$24.99 ($0.98 / Ounce) Buy on Amazon.com
As an Amazon Associate, I earn from qualifying purchases.
---
Other posts you might like:
---

Anybody else sick of packaged cereal bars? But, they are just SO easy and fast....
---

Can you trick your pals into believing you used a stick of butter to make your banana bread? I think so!...
---

Looking for that perfect gift for that special someone? Put down your credit card and rev up your food processor.
---

Snack Girl is not someone who thinks you should alter the almighty brownie treat. Why take something so indulgent and delicious and change it?....
---